(TheBRHM.com) When discussing speed metal and power metal, there are a lot of bands that I'd mention are a favorite—especially if they were active during the 1980s. German power metal and speed metal pioneers Running Wild are legit top five in my speed metal books.
Running Wild—taking its name from a Judas Priest song—got its start in 1976 as Granite Hearts before changing its name a year after Priest's Killing Machine dropped.
When its debut album was released in 1984, the band kicked open the door with some aggressive, dirty speed metal before polishing their sound throughout the decade.
By the end of the decade, it had morphed into a speedy as hell power metal act, joining fellow speed metal to power metal graduates Blind Guardian, Helloween, Grave Digger and Rage.
Let's take a quick dive into the band's 1980s work and rank them from best to worst in this "Best of the Decade". One thing to know about the band before dive in is that it had Motorhead-like consistency in the 80s and 90s with many albums dropping the next year.
In this band's case, from their 1984 debut album to 1989, 1986 was the only year when nothing was released.
Running Wild – Death or Glory (1989)
Kicking things off is the decade closer Death or Glory. I don't know if bands and artists are aware that they should drop some heat if they release an album at the beginning or end of a decade but Running Wild did it anyway.
By 1989, Running Wild was two years into their pirate theme having embraced the Golden Age of Piracy as their new foundation. The band had also soaked in power metal waters while still retaining its speed metal roots.
This was my favorite period of European power metal as keyboards were present but not a prominent part of the proceedings. Death or Glory is a strong note for that period in metal and just a fun, bad ass album from start to finish.
We get the usual dives into pirate adventures, world history, and just anthemic tunes that the band used to be well-known for before the hard rock influence rolled in during the 2000s.
As a whole album, Death or Glory might just be the band's most untouchable album in their catalog. However, Black Hand Inn has a strong case for that honor.
Standout Tracks: Riding the Storm*, Renegade***, Bad to the Bone***, Death or Glory**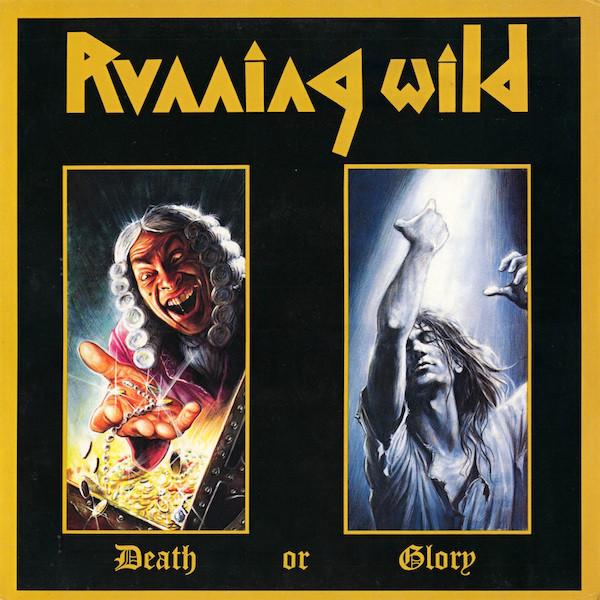 Under Jolly Roger (1987)
There are some film franchises where you could skip the first movie or the first movie is usually not mentioned as the first or second best. Think about the Evil Dead and Mad Max franchises for instance.
The same can be said about music. Judas Priest's Rocka Rolla is an album that rock historians and die-hard fans will bring up and highlight the significance and merit of the album but I'd say just start with Sad Wings of Destiny.
With Running Wild, you could just start with Under Jolly Roger as it is the start of what we currently know the band as: that old pirate band that used to raucous and fast as hell.
Under Jolly Roger is the start of speed metal pirates Running Wild and it works. It's an amazing introduction to the band, an easy 36-minutes at eight tracks listen, and just a fun as hell album. Like Death or Glory, it definitely deserves its own entry in future.
If you check out our "5 Metal Albums for Nerds and Geeks: Part 3" article over on AfroGamers, you'll also notice this album holds the number two slot!
Standout Tracks: Under Jolly Roger**, Raise Your Fist, Diamonds of the Black Chest***, Merciless Game**
Port Royal (1988)
If Under Jolly Roger was the start of the pirate themes, Port Royal was when the band went all-in on the themes and stage presence. Of the early piracy trilogy—the last three albums of the decade—Port Royal was the weakest to me.
With that said, it is still a good album. It just doesn't have the same punch as Under Jolly Roger and Death or Glory. That said, it has a strong narrative throughout and establishes the longer, epic, heavier songs approach of the band while still maintaining its faster tempo in most tracks.
That's the main thing with me: speed. As long as it isn't a hard regression to a snail's pace, I can roll with it. Running Wild is pretty good with keeping a pulsing, energetic pace even today. The approach of rampaging, raucous speed for the majority of the album building to epic pieces works.
Standout Tracks: Port Royal*, Raging Fire**, Conquistadores, Mutiny
Gates to Purgatory (1984)
The first albums two albums sit at the bottom of the list but I dig the primordial ooze that is Gates to Purgatory. Industry standard production and focusing on speed and attitude is my favorite vibe on an album.
I can get into a polished or overly polished album with speed to it but as an experience, the early 80s production is where my heart lies as a fan. Gates to Purgatory is the perfect example of this.
The debut is similar to a lot of speed and thrash metal during this period in that lyrically, there was a focus on rebellion, Hell, rock, and Satan with some social and historical awareness in the mix.
This is my jam and personally, I rank it higher but technically, it's not nearly as strong as those three. While Running Wild had been around for eight years at this point, the debut was a project that showed potential and not the peak.
However, if you're looking for a quick, fun, headbanging fix, Gates and the last album on this list hits way faster than Port Royal and Death or Glory. Not only that but Running Wild was focusing heavily on the anthems in the first two full lengths.
For the most part, those anthems didn't reach the levels they would further down the line but they're still strong anthems and could probably be retooled into something else now that the band has a couple decades of experience under its belt.
Standout Tracks: Victim of States Power, Black Demon*, Diabolic Force, Adrian S.O.S**
Branded and Exiled (1985)
Ending the list is Branded and Exiled and to be honest, it's pretty much Gates to Purgatory II. Actually, Rock n Rolf—lead singer, guitarist, and founder—should merge the first two albums together into one revisited album.
Better yet, the band should shift songs between the two albums and make totally new albums with old songs. It's doable but generally frowned upon as listeners constantly expect something new each release.
Branded and Exile dropped off a bit from the debut but it still shows the potential this band could reach just shy of its first decade. Lyrically, it's more of the same but in two years' time, the boys would drop the Satan and Hell elements in favor of history and piracy.
I always wondered what the band would've done going forward with this direction but so many bands did that and went into hiatus before returning after a few decades—fellow German speed metallers Iron Angel are a good example of this.
Standout Tracks: Realm of Shades*, Fight the Oppression, Marching to Die, Chains and Leather***
Staff Writer; M. Swift
This talented writer is also a podcast host, and comic book fan who loves all things old school. One may also find him on Twitter at; metalswift.