(TheBRHM.com) The live album has been around for decades but the demand for them wasn't always that high. These releases tend to feature performances from live shows where a band delivers their hits. On occasion, you might hear an unreleased song or even a song that had been shelves for years.
Let's check out five of the best live albums in metal history. I've done a similar article over on ThyBlackMan which gives you five to check out. We're aiming for the must-listen live albums this time!
However, if you've read that article then you're about to see a familiar face with our first entry.
Motorhead – No Sleep 'til Hammersmith (1981)
The classics are always a valid choice. No Sleep 'til Hammersmith is one of those essential metal live albums. It comes after Ace of Spades, the album that popped Motorhead worldwide.
The track list here features songs from Ace of Spades, Overkill, and Bomber—which is probably as safe as you were going to see Motorhead. Like, most these tracks were the band's trademarks, so it's a safe listen.
I mean, at this time with live albums, a band typically stuck to what warranted a live album in the first place. You're not going to drop a ton of album cuts or B-sides, after all.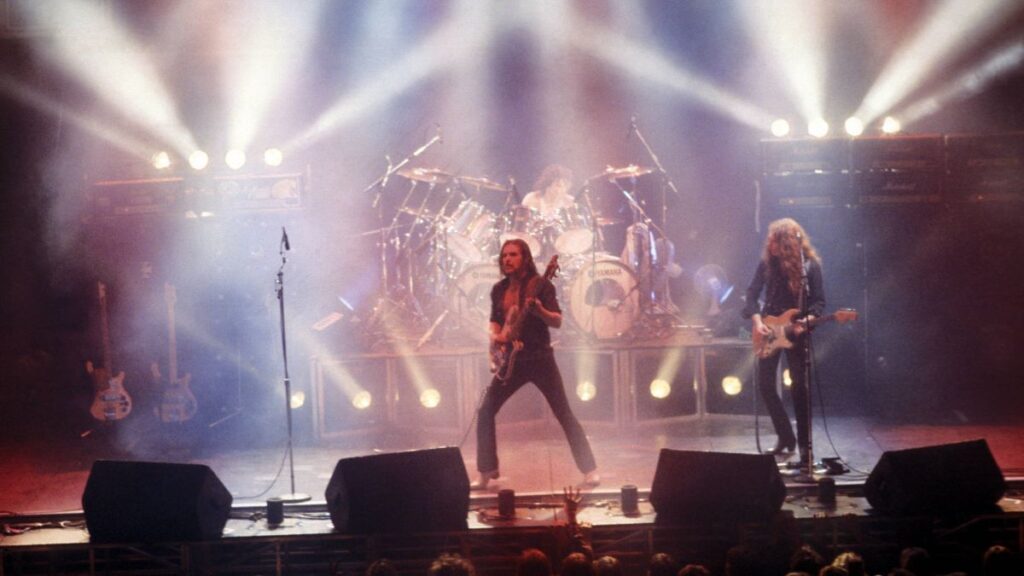 Blind Guardian – Imaginations Through the Looking Glass (2004)
This one is something of a cheat entry as it's not a live album but a live video. The footage comes from various German tours between 2002 and 2003. Again, the hits are all delivered and really Blind Guardian—a band we've yet to dive into—are an act that is amazing live.
The music itself is already extremely epic as the band's lyrics are about Lord of the Rings, fantasy, and history. With those kinds of tunes, large venues with massive crowds are must.
If you ever wanted to see a major metal band performing at their peak, you can't go wrong with this one.
Combat Tour Live: The Ultimate Revenge w/ Slayer/Venom/Exodus (1985)
We've got another live video and it's a split featuring three bands: Slayer, Exodus, and an inspiration to the previous two as well as black metal/thrash metal pioneers Venom.
Disclaimer: I love all three bands and they all deliver an hour of speedy as hell metal. Like Imaginations Through the Looking Glass, Combat Tour Live is a patchwork live video featuring live footage from 1982, 1984, and 1985 both from shows and other Combat Records live releases.
Of the bands featured, Venom has the fewest songs. However, that is quickly remedied with our next entry…
Venom – Eine kleine Nachtmusik (1986)
Released by Neat Records, Venom's home during the 80s, this live album is a good, Cliff Notes-style introduction to the music of Venom. While most of the albums on this list are the hits, Venom brings their most popular songs as they were never a mainstream band that just generated hits.
It's all speed metal and thrash and as a result, the double disc release actually runs shorter than I remembered at just over 36 minutes and 38 minutes respectively.
The track list on Eine kleine Nachtmusik comes from an October 1985 show at the Hammersmith Odeon and an April 1986 show at The Ritz. All songs come from Welcome to Hell, Black Metal, and Possessed.
Kreator – Dying Alive (2013)
We've mentioned the Big Four of Thrash—Metallica, Megadeth, Slayer, and Anthrax—in passing before and only touched on the Teutonic Big Four in Kreator, Destruction, Sodom, and Tankard.
Don't worry, in-depth articles on both thrash-pioneering groups are on the way! Meanwhile, Kreator's 2013 live album Dying Alive serves as a great primer to learn their music.
If I had to find a problem with that, it's that it comes years after the band's prime in the 80s and 90s and lead singer Mille Petrozza's voice—while still powerful—has a different fierceness to it than it had when the band formed and was on the rise.
That aside, all of their essential tunes are in the track list. This live release features a live DVD, two live albums with one being a bonus, and a bonus album of demos. The live DVD and live album feature the same track listing.
Now, this is a first for the live albums and videos on this list as this one was filmed at one German show in December 2012.
Motorhead – Everything Louder Than Everyone Else (1999)
More Motorhead? Don't mind if I do. There's not much to say here as this release is all about the performance of Motorhead since some of the tracks already appear in No Sleep 'til Hammersmith.
We also have some hits from post-Ace of Spades. The band released a ton of music since No Sleep including live albums, so there is a lot to include. What sets this one apart from No Sleep is that we have a much more seasoned Motorhead—24 years at this point—still kicking out gritty, fast, heavy metal with a high performance.
No matter the decade, Motorhead did not let their foot off the pedal. Their goal was to be loud, over-the-top, and to destroy your lawn. They kept that approach going up until the band ended.
Judas Priest – Judas Priest Live (1983)
Now this—this is some great stuff. Another live video but this one is stellar start to finish. Even if you don't know Priest's hits, the songs are catchy enough that you'll learn them fast.
This one was filmed at the legendary Mid-South Coliseum show from December 1982 and features songs from most of their most applauded albums starting from Sad Wings of Destiny.
All the bands mentioned in this list were amazing at live performances but Priest was the band that took heavy metal showmanship and stagecraft to new levels in the early 1980s. Soon King Diamond and Mercyful Fate would receive the same honors that same decade.
Of the albums on this list, I'm going to say that Judas Priest Live is the essential listen. Once you've heard the audio—even if you haven't–check this live video out. Rob Halford is an absolute hyper-energetic madman on stage at this time.
Staff Writer; M. Swift
This talented writer is also a podcast host, and comic book fan who loves all things old school. One may also find him on Twitter at; metalswift.