(TheBRHM.com) Every so often, I enjoy some country music but it's often a couple of loose songs that I just really dig. Just like any genre, you can hear something from an artist, not enjoy most of their catalog, but dig a handful of songs.
The last time we looked at some good introductory country songs. This time, we're looking at five more country tunes you might just dig.
Hank III – "Long Hauls and Close Calls" (2008)
Let's start off out and a little more recent with a track from Hank Williams III. A friend introduced Hank III with to me several year ago with this track and I was blown away. It was just about everything I love in a song: it was fast, aggressive, and just rips.
Hank III's sound mixes country music with hardcore punk and heavy metal and was developed over several years. "Long Hauls and Close Calls" is a hard partying, hard rocking weekend track—or any day of the week if that's your lifestyle.
Of the songs on this list, this is the one that gets me pumped. It's not a song that you dwell on the hidden meanings or anything. This is a party anthem pure and simple.
The Highwaymen – "Highwayman" (1985)
"Highwayman" is a track I put on when I just want to chill. It has a bounce and a pace to it while not being a ripper of a song. What I love about this track is that each singer—Johnny Cash, Kris Kristofferson, Waylon Jennings, and Willie Nelson—all told the story of men who died but believe that they will live on.
That's the gist of the song. Different figures meet their end but know their stories will be told after they're gone. It's a great song to just reflect on and simply enjoy without deep thought as it doesn't run for long at all but has an epic sound.
"Highwayman" is a song that gets a ton of play from me on iTunes. This is the deep thinking song and gives you a little something to ponder while not overstaying its welcome. It seems like song that would be longer since a bunch of stories of fallen men could've been told but the song is over shortly after it starts.
This track has a deceptively brisk pace but it works!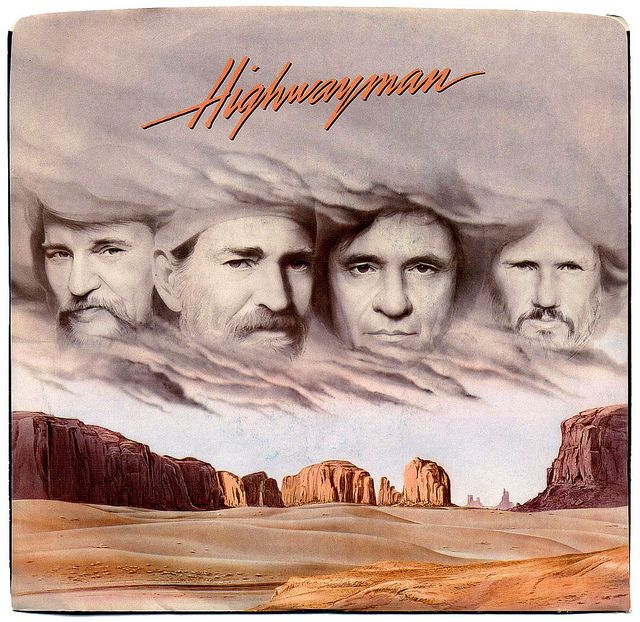 Hank Williams Jr – "All My Rowdy Friends (Have Settled Down)" (1981)
This is a rarity for any list I've done where a father and son makes it. "All My Friends (Have Settled Down)" is a low tempo tune that kind of gallops slowly as Hank Williams Jr discusses how all his friends have mellowed out basically.
Country music in the 1960s and 1970s was like any other music scene. In the same way that drugs and alcohol were a part of early rock, blues, folk, and jazz music, they've played a part in country music.
The song makes references to Williams' friends in the industry as well as how they were and how they are years down the road with age.
Just like our first two entries, "All My Friends (Have Settled Down)" gives a picture of life but like "Highwaymen" it gives a clearer picture of a certain time in life after people mature and move on from stuff they indulged in during their youth.
Unlike "Highwaymen" there's a humorous slant to the song where the singer/narrator is kind of lamenting about his friends no longer being rowdy before we find that they've simmered down in life as well.
Those little touches are something I really enjoy about country.
The Cowmen – "Maggie" (2015)
Bringing it back to rowdy and modern, we have The Cowmen, an New York band that mixes country rock and punk music. However, it's different from Hank III's cowpunk as it doesn't have that level of dirtiness and aggression to the music.
The song "Maggie" is a great introduction to the band's raunchy, energetic sound and the band's style. One thing I've always dug about The Cowmen which is showcased in this song is the drum playing. It has this bounce that I love. Also noteworthy is the triple vocals from the band's three singers.
While the song is under two minutes, that's really all it needs. Put "Maggie" in the rotation with other uptempo country sounds for a treat.
Also with listening to are "Liquor Store Liver" and "Skeleton Dan".
Kathy Mattea – "Eighteen Wheels and a Dozen Roses" (1988)
This was a track I happened upon some years ago while going through recommendations. The title was enough that I'd stop and entertain it and I'm glad I did!
"Eighteen Wheels and a Dozen Roses" isn't the kind of song that I usually give a full listen. It's a slower, romantic tune about a truck driver who is wrapping it up on his career. This is his last run then he's heading home to his wife with a dozen roses to celebrate.
It's definitely not on the rowdy end of the spectrum but it's still a s beautiful tune. Plus, you don't have to be a country fan, a truck driver, or a trucker wife to be moved by this one or enjoy it.
Staff Writer; M. Swift
This talented writer is also a podcast host, and comic book fan who loves all things old school. One may also find him on Twitter at; metalswift.