(TheBRHM.com) Sister Rosetta Tharpe is often noted as a pioneer of rock n roll music and in many cases as the starting point. I've always enjoyed history and finding the origin of something—granted I enjoy what I'm diving into.
It's why I'm behind on a lot of stuff. I've never cared for just dropping in on something and going forward. If it's an artist or band, I'm going to go back and listen to their early recordings even if they're not as good as the current stuff.
No, I'm not going to back and do a review of Sister Rosetta Tharpe's material. However, I love looking into the influence that Black musicians had on rock music pre-rock and during the genre's formative years.
Even more interesting is when musicians come from a genre that is the polar opposite from rock as far as sound and flexibility of lyrics goes.
The Early Potential of Sister Rosetta Tharpe
Born Rosetta Nubin—or Rosether Atkins—on March 20, 1915, Sister Rosetta Tharpe hailed from Cotton Plant, Arkansas where her parents—you guessed it—picked cotton.
Her parents were also musicians with her father being a singer while her mother was both a singer and mandolin player. Katie Nubin, was also a COGIC women's speaker as well as a deaconess and missionary.
It was these origins in the church that would establish Tharpe's musical roots. Considered a prodigy in her youth, she began playing guitar at four due to COGIC's emphasis on members being able to express themselves through music.
This was in contrast to many Christian systems at the time when secular music in a non-secular setting was considered a no-go. As a matter of fact, it was vice versa as well but many early recordings that really popped early Black musicians featured arrangements that came out of the church.
The musical flexibility in this respect contributed heavily in opening the doors for showmanship in both secular and non-secular music.
Performing as Little Rosetta Nubin, she joined her mother in traveling and performing at just six years old. After a failed marriage to a COGIC preacher, she adopted an altered version of her ex-husband's name as her own stage name in the 1930s.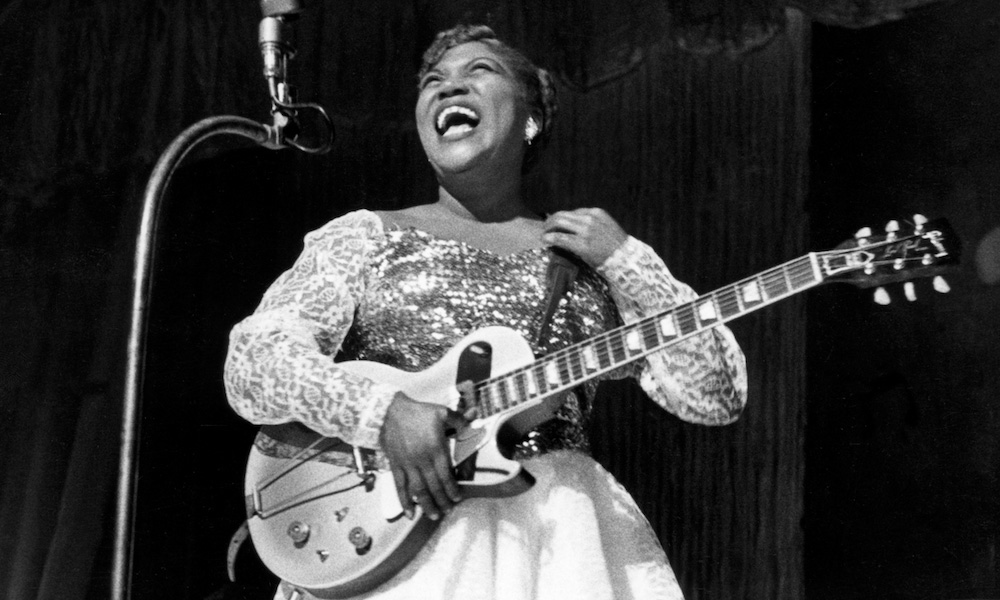 Spreading Her Wings
In 1938, she headed to New York City with her mother and would record her first album with Lucky Millinder's Orchestra with Decca Records. It would be the first gospel recording at a time where EP length releases were considered full recordings.
The crossover of gospel with jazz did not sit well with religious listeners but it was hit for her. Listeners who weren't interested in church music or didn't find the performers out of that genre interesting rocked with Sister Rosetta Tharpe.
Three things contributed heavily to her success out of the gate. First, she was a Black artist and this was early music recording. She had the "Oooh, wow new and novel" thing that Black artists before and after her had as well.
The two factors that would impact rock music going forward was her playing of the electric guitar and her showmanship. These two go hand-in-hand because it becomes an issue with some bands many decades later.
Not only did she play electric guitar—which had just been invented six years earlier—she played it well. With her background in music, she was technically proficient and would only get better as she was in her early 20s.
Finally, her live performances had some showmanship to them. While proficient, she wasn't so technical before live audience that it was boring. When she sang or played it was a mix of skill and charisma.
That's a mix that will move records—especially the charisma and showmanship aspect.
The Star Begins to Dim
During the 40s, Tharpe did as many Black musicians who came out of the South and headed further North did: she signed a lengthy contract and played with other acts and orchestras.
While signing a seven-year contract with Millinder at a time before full-length albums became the norm is mind boggling today, it could be looked at as more of a talent-agent arrangement.
She was able to perform with other groups and perform as a solo artist. Part of her promotion was to do guitar performances and battles at the Apollo Theater.
Also, her career continued to thrive during World War II as soldiers were hungry for any entertainment from back home. Comics, books, films, radio dramas, music—soldiers wanted it all and the music industry was rapidly growing throughout the 1940s.
What is interesting about Tharpe's career is that she's part of the ooze of rock music while primarily performing in jazz and blues circles. As the 1940s came to a close, her eyes were on a return to gospel.
Her career ran into two brick walls that spelled the end of her run as a hot popular artist: Marie Knight and Mahaila Jackson. Both were incredibly talented singers and Jackson was rapidly on the rise in gospel music.
Sister Rosetta Tharpe actually saw both women perform in 1946 and scooped up Knight—who was singing on a Jackson-headed show. Roughly three years later, Knight was ready to spread her wings and fly solo.
Influence
The last marker of her career was 1956's Gospel Train, an album with gospel songs that sound nothing like gospel from that period. Actually, it sounds more like boogie-woogie 1950s rock n roll than anything else. It's a fun album.
She still sold-out large venues but the spotlight in blues, jazz, and gospel were no longer on Sister Rosetta. Being a pioneer, her career had parallels with her predecessors and contemporaries in that British music fans were just discovering her music in the late 1950s and the 1960s.
A few of those fans became musicians themselves and Tharpe's music along with others became a major influence just prior to the British Invasion.
When discussing pioneers, it's important to note what they pioneered. What did they bring?
Sister Rosetta Tharpe laid a lot of the groundwork for artists who would come along towards the end of her U.S run such as Chuck Berry, Jerry Lee Lewis, Elvis Presley, Johnny Cash, and Little Richard—whom she actually paid after his performance and sparked his dive into show business.
That wave of artists would shape rock music into a form that would springboard rock as we know it today. Her influence touched those that came after that wave's close such as Tina Turner, Isaac Hayes, and Areatha Franklin.
Tharpe's career spanned roughly 54 years. In the early 1970s, she was battling diabetes which prevented her from touring and performing. Sister Rosetta Tharpe passed on October 9, 1973 due to complications from her condition.
It would be 34 years before she was inducted into the Rock and Roll Hall of Fame as an Early Influence. Two years later, her recordings were lost in the June 2008 fire at Universal Studios along with those of many of her contemporaries and those she inspired and influenced.
Staff Writer; James Swift, Jr.
This talented writer is also a podcast host, and comic book fan who loves all things old school. One may also find him on Twitter at; metalswift.