(TheBRHM.com) One of my mother's favorite rock bands was the folk/hard rock band Heart which originated in Seattle, Washington in 1970. The band was headed up by sisters Ann and Nancy Wilson who both performed lead vocals and guitars—with Nancy being the main lead guitarist.
My mother passed in January 2021 and decided to look more into bands she enjoyed such as Journey, Blondie, and yes, Heart. The first album I heard from the band was their third release Little Queen from 1977 which features a hit song we're all probably familiar with by now.
Heart – Little Queen (1977)
Little Queen features ten tracks—twelve if you get the reissue which features a cover of "Stairway to Heaven". The album leans towards folk rock but there are flashes of hard rock.
It's important to note that in listening to 1970s Heart, you'll notice that they weren't the heaviest or hardest band in the land. A lot of the stuff from this period lean towards a lighter side but all of their songs on these releases have emotion to them.
They're albums you have to sit with and actually take in. On each album there is some hard rock, so you'll get that fix of music you can just enjoy and not have to really reflect on but that's not Heart's bag.
Which I always thought was a shame because Heart rocks out, they really rock out. The best example of the band putting these two sounds together was "Magic Man" from Dreamboat Annie.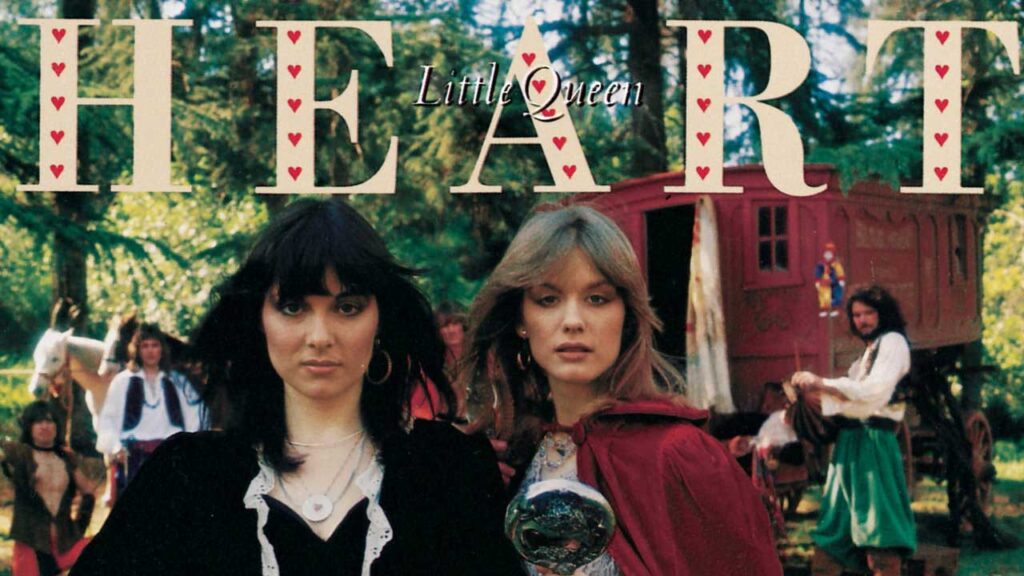 I don't know what it is but there's just something about female lead singers and folk rock that just clicks. Now, I won't say it's hard for a female singer to mess up with folk rock but regardless of vocal range or vocal power, they just tend to gel well with the genre.
It's no different here. Even though it's far from my preferred genre, I dig vocalists first then guitarists. Both sisters delivered on Little Queen as they did in the two previous albums and as they would in the 1980s.
Heart was just ridiculously consistent and talented. I tend to use "vibe" a lot when discussing hip-hop but this album is very much a vibe with some harder, rocking songs sprinkled in.
You have something like "Love Alive" and "Cry to Me" right next to "Barracuda" and "Little Queen" on this release and it's a nice mix that just works. It helps that the songs are good as well, obviously.
While I'm going to get into "Barracuda", I applaud the placing of "Kick It Out" and "Little Queen". It's this double whammy of just hard rock and that gets a thumbs up from me!
Standout Tracks: Barracuda*, Kick It Out, Little Queen*, Cry to Me
The Star: Barracuda
Interesting known fact: the album cover for Dreamboat Annie resulted in one of the band's most well-known hits. Their original label Mushroom Records released a sleazy tagline that alluded that the sisters were in an incestuous relationship.
Angry, Ann and Nancy began writing "Barracuda" which is their most known song. Trust me: if you're an adult, you've run into "Barracuda" more than three times in your life. It's like "Ace of Spades" and "Breaking the Law".
What I really love about this particular song is that it's the opener. When half or the bulk of your album is lighter, a heavier song like "Barracuda" is a double-edged knife.
On one hand, it's good to get the blood pumping with a hard song. However, you kind of have to keep that tempo up. That harder song might end up being the selling point of the album or the lead single.
That creates an impression of what kind of party it is when your band might have a wild mix or were just trying something to see what sticks. Hell, your band probably thought "This is a really good song! Let's make it the single!"
Yet the rest of album isn't exactly in that same area or it might be another state or two over from that sound. It's weird but "Barracuda" is such a great song. I would've loved an album heavy on this or the sound of "Magic Man", honestly.
Album Verdict
It took some listens over the years for me to appreciate the album. This just wasn't my sound for the most part. Once you appreciate an album, you might even get to enjoy it.
Right now, I'm still at the appreciation stage. While "Barracuda" and "Little Queen" are in my hard rock playlist—as is "Magic Man" and a few others—the album as a whole isn't something that get revisited regularly.
The musicianship here is extremely tight and they use their inspirations extremely well to make some good tunes but as an entire project, I'm just in the middle on it.
As I said, this album has more of a chill vibe than what was usually on the radio at the time. Folk rock still had some skin in the rock game in the late 70s but Heart brought just enough hard rock that mainstream fans would give it a purchase.
I'll say overall, this was a solid album. Great musicianship by all involved, Ann is a favorite of mine as far as singers go but the vibe or just how the tracks are arranged keeps Little Queen from being a strong album.
Grade: Solid Album
Staff Writer; James Swift, Jr.
This talented writer is also a podcast host, and comic book fan who loves all things old school. One may also find him on Twitter at; metalswift.