(TheBRHM.com) We're checking out the debut album of a band from the new wave of speed metal in Enforcer and their 2008 release Into the Night. How great of a debut album was this one? Let's check it out.
This is a band we haven't touched on but we'll get into Enforcer's other albums in other entries. They're 100-percent an act to check out and they've been going strong for almost eighteen years now.
What Kind of Vibe is Enforcer?
This Swedish band was formed in 2004 and features veterans of different thrash, death, and black metal bands. While some members have come and gone, that remains the foundation of the band members' backgrounds.
I mention that because the debut features a very thrashy sound which is rounded out when the 2010 follow-up drops. For the most part, Enforcer is a speed metal band through and through but they can slow it down a bit for those of us who dig a more mid-tempo heavy metal sound.
I'd say they're a pretty digestible even on the debut. They're just relentlessly fast with some very heavy lyrics. The lyrics on the debut are dark but the direction of the band—even this early—doesn't steer full on into new thrash's frenzy of music approach.
From Diamonds onward, they were higher energy while still keeping that speed and fast-paced which made for somewhat lighter listening while still being very heavy. I'd say it's similar to Running Wild starting out with darker themes of oppression, demons, Hell, and rock before transitioning more to history, pirates, and rock.
Enforcer made a similar transition in a shorter period and following one album. That could be done to coming from bands that did mostly darker stuff, going with what they knew in their debut, and changing it up a bit in future albums.
Sometimes, the approach a band comes in with simply works and you want the band to remain like that. Other times, you've heard the approach so much that you can see a band doing more and want something different from the band in future releases.
That's Enforcer in a nutshell when you give Into the Night a listen.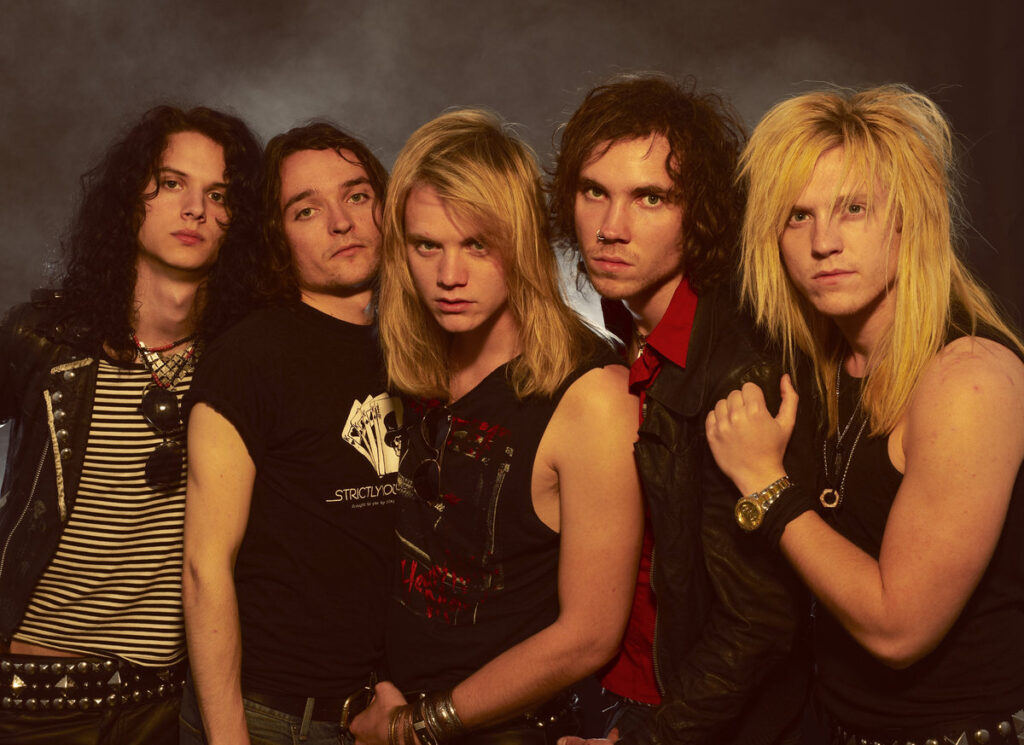 Great Debuts: "Into the Night"
I'd say that Into the Night gets the nod for being a good debut for Enforcer and a pretty decent introduction if you've never heard of them. Now if you want a great introduction, listen to the follow-up Diamonds. It's an album that matches its name to "T".
On that note, Into the Night matches its name as this is an Enforcer that is darker than the follow-up. Lyrically, we have songs about demons, killing, and being possessed to kill along with a little something about fast women. For the most part, the album rips and rocks.
Enforcer's approach at this period was faster heavy metal with an influence from the new thrash approach of the 2000s. The new wave of thrash was everywhere in the 2000s alongside metalcore and the sound was influencing a lot of bands that weren't going that route full on.
What's important is how much of that influence really seeps through. In the case of Into the Night, the speed element comes off as almost thrashy at times. Enforcer aren't the fastest but they definitely have a motor on them. It makes for an interesting debut.
The number of strong tracks on this album is also impressive. "Evil Attacker', "Speed Queen", "Scream of the Savage" and "On the Loose" are the heaviest of hitters on Into the Night but there are even tracks not named on this nine-song release that really kick ass.
I like to relate albums to ones I've already explored or older albums and Into the Night is pretty much like mixing the pace of Iron Maiden's The Number of the Beast with the overall approach of Canadian band Razor's Evil Invaders. The sound has a good amount of fury and aggression but moments of melody break in here and there.
Again, reeling it back to Running Wild, Into the Night is pretty much Enforcer's Gates of Purgatory and Branded and Exiled. There are similar themes before changing direction. Enforcer still delves into the darker stuff but the direction taken with Diamonds gives the post-Into the Night dark content a different sound.
Strength of the Opener: "Black Angel"
Honestly, "Black Angel" isn't the best opening track. It's definitely a song with some punch but I wouldn't say that this was the best choice of an opener on this album. I'd give that honor to "Speed Queen". It's pretty much the best track on the album and would've kick things off on a stronger note.
As a matter of fact, I've rearranged the tracks and found "Speed Queen" to be a good opening track and that "Black Angel" does better more towards the middle of the album. Another strong candidate for the opening track would've been "Evil Attacker".
While Into the Night was a different project in many ways from Diamonds, for this album I'd say something faster and heavier should've kicked things off. "Black Angel" was definitely a fast and heavy track but there were better opening tracks on the album.
Staff Writer; M. Swift
This talented writer is also a podcast host, and comic book fan who loves all things old school. One may also find him on Twitter at; metalswift.