(TheBRHM.com) Alexis Brown is the leader singer Knoxville, Tennessee metalcore band Straight Line Stitch. Originally from Clarksville, she joined the band in 2003 probably as the band was changing its sound.
Before SLS
Brown was a singer growing up and actually wanted to go into R&B. According to her interview with Boxx Talk, she was unable to write love songs—a staple of R&B. After her brother introduced her to bands like Slipknot and Ozzy Osbourne, she fell in love with rock music.
She was in a rock band prior to joining Straight Line Stitch her band performed shows with the band. As it often happens in rock, both bands ended up being down a member—Straight Line Stitch lost their singer and her band lost their drummer.
The drummer of SLS at the time filled in for Brown's band and she pretty much joined his band. It's an origin story as old as time in rock music.
Alexis Brown and Straight Line Stitch
So, metalcore isn't a favorite genre of mine at all but there are bands that catch my attention such as Trivium or God Forbid—mainly because they gradually changed their style to something I'd enjoy like thrash metal.
A genre I'm also not a fan of is nu-metal which is Straight Line Stitch played from their formation in 1999 until the late 2000s. I couldn't tell you exactly when they stopped playing it but with the addition of Brown, the band found their vocal sound.
Alexis Brown has the vocals for metal and rock in general. In listening to 2006's To Be Godlike, her vocals are pretty much stock for metalcore at the time. Harsh vocals and even some growls.
Where she changed up was by adding in clean vocals during the choruses, the opening verses of songs, Brown breaks the clean stuff out through that album and Straight Line Stitch's follow up albums.
One song off of that album which showcases her clean singing ability is "Silver Lining". I would've loved more of this on the album where the harsh vocals that are trademark of metalcore accompanied vocals and weren't the star.
Just like the now-defunct 3 Inches of Blood from Canada.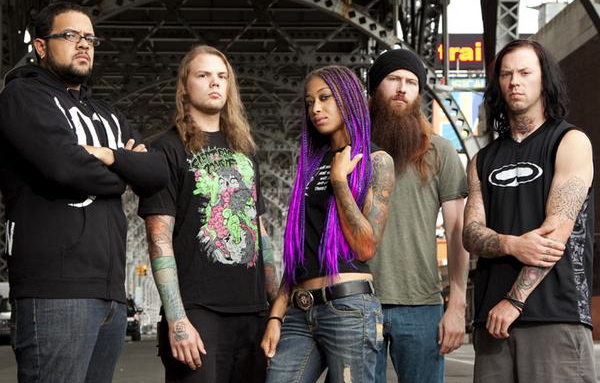 Choice Cuts
Besides "Silver Lining" there's also "Exodus" and "The Antagonist" that standout. With her time in the band, they delivered more standout tracks on albums.
The whole The Word Made Flesh and most of When Skies Wash Ashore featured some great vocal work from Brown and the band was consistent as usual.
That's the thing whether you listen to SLS as an ensemble or key your ears open for Brown's vocals, you can see potential for the band overall to excel in a different genre.
What happened with Straight Line Stitch's contemporary metalcore bands is that they either ended or they floated towards another genre. Some regressed into nu-metal while others fully embraced hardcore or thrash metal.
Alexis Brown's singing gave SLS its voice and from what I've heard from their four full-lengths is that the band could easily shift into another genre or Brown could nudge them into something else.
I'm TheBRHM's resident speed merchant and I'd say thrash, melodic death metal, or even this heavy metal revival period that is raging now would benefit from Straight Line Stitch's talent.
Those wishes aside, Straight Line Stitch and Alexis Brown are keeping the metalcore torch ablaze and are one of the better bands still doing the genre.
Staff Writer; James Swift, Jr.
This talented writer is also a podcast host, and comic book fan who loves all things old school. One may also find him on Twitter at; metalswift.