(TheBRHM.com) The name "Kamara Thomas" should ring some bells as she's been performing for decades. Hailing from Durham, North Carolina, she is best known as the bassist, keyboardist, and vocalist for the hard rock power trio Earl Greyhound.
Playing some hard rock that leans heavily towards Southern rock, the band has had its music in different media but it's their song "S.O.S" from 2006's Soft Targets that got around.
It appeared in several EA Sports titles from 2007 including Madden 08. Earl Greyhound would also work with EA between 2008 and 2010 providing tunes for several games.
What we're going to look at is three Earl Greyhound songs that show case Kamara Thomas' vocal ability.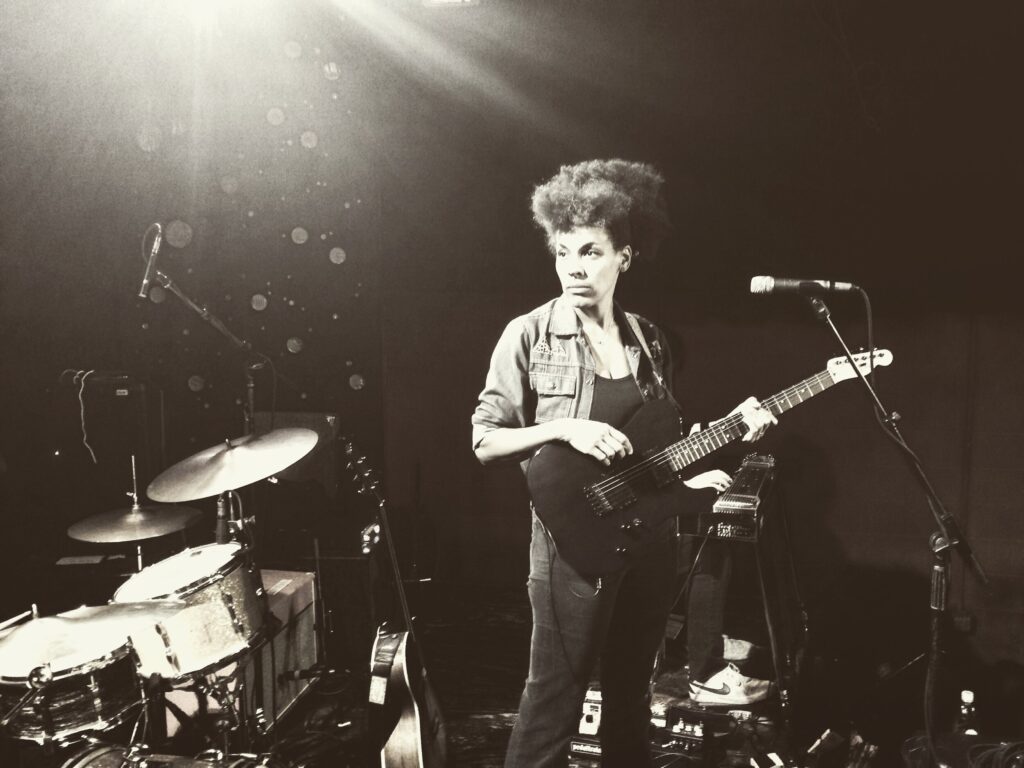 Oye Vaya (from Suspicious Package, 2010)
In this song, vocal duties are split evenly with fellow Earl Greyhound singer and guitarist, Matt Whyte. It starts off jazzy for a few seconds and goes right into rock. These two just rode the song and the vibe here is of a chill vibe that escalates.
Ricc Sheridan does his thing on the drums and it just flows with the song. Again, it's very much a jam-like song that if you're not paying attention and just have the song on while working, it will easily flow into another track.
As for the vocal work of Kamara Thomas here, it's as if you mixed emotional, soulful singing with something with a little edge. Imagine singing along with a song that you really love at the top of your lungs.
Now imagine that with singing ability. That's what Thomas delivers here. It comes off like something you would've heard on rock radio in the 1970s and I love that sound. The album version sounds more controlled but I recommend finding a performance version of this one.
S.O.S (from Soft Targets, 2006)
Now, "S.O.S" a different from "Oya Vaiya" in that it comes off less of a jam and more of a song where it was played several times and perfected. What I loved about "Oya Vaya" is that while it was played, practiced, and perfected, it had an organic vibe to it no matter how many times you listen to it.
"S.O.S" is polished but we still get that singing chemistry between Thomas and Whyte four years prior. Also, the harmonizing into the break towards the end of the song is just great.
As for the song itself, a lot of Earl Greyhound tunes have that Southern rock vibe—the band formed in Brooklyn—where you just want to turn it on and shotgun beers for the duration of the album while deep in thought.
That sounded very particular and telling but "S.O.S" is that kind of song. You turn it on, you're greeted by some great singing and tight musicianship, and just down a couple. Speaking of shotgun.
Shotgun (from Suspicious Package, 2010)
This is my favorite Earl Greyhound song and the song that best showcases her vocal ability with the band. She takes the lead vocal duties here and while the song isn't my pace, it's such a perfect song for chilling out after a busy week.
You don't need an open Friday or Saturday to enjoy "Shotgun" but it helps. Just clear a couple of minutes, get yourself some silence, and pipe this through your ears.
It's more organized like "S.O.S" only it rides like "Oya Vaya", so it's the best of both worlds. It starts out more blues rock-y then it breaks down into straight up hard rock towards the end.
As mentioned before, Thomas' vocals take center stage here and there is not an ounce of stage fright to found.
Staff Writer; James Swift, Jr.
This talented writer is also a podcast host, and comic book fan who loves all things old school. One may also find him on Twitter at; metalswift.