(TheBRHM.com) Metallica is one of the legends of heavy metal as the band that really took the genre mainstream. Coming out of the 1980s Bay Area thrash scene, Metallica has seen a few changes in members and sound but always maintained the core songwriting duo of singer/rhythm guitarist James Hetfield and drummer Lars Ulrich.
In this "Best of the Decade," we're looking at the 1980s arsenal of Metallica. We've got four albums from 1983 until 1988. The decade is a fondly remembered time for the band's career as most of it was still their thrash period. As always, the best is last on this list!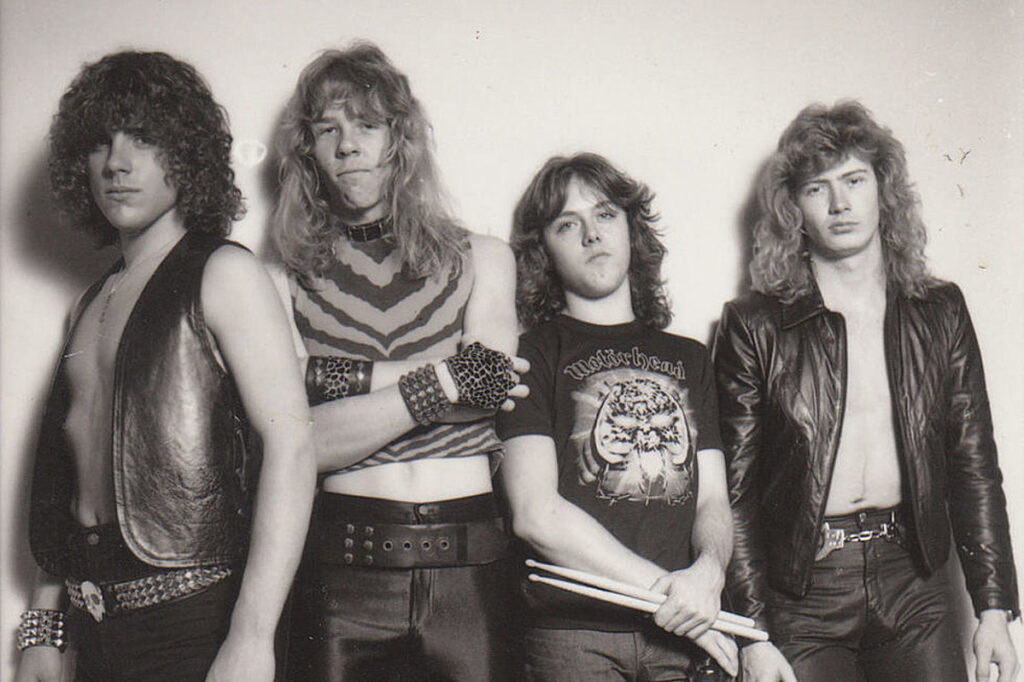 …and Justice for All (1988, Elektra Records)
This is an odd entry to start with since it's the end of most fans' preferred period of Metallica. If you didn't know by now—I dig speedy stuff and harder sounds. Thrash, speed metal, hardcore punk, trap, drill, some heavier synthwave—all of that really works for me. While this wasn't a complete flip from that original Metallica sound, …and Justice for All did feature a mature band.
It isn't like Metallica just lost most of the wind or all the wind out of its sails. It's just that after years of good fast and furious, the band gradually dialed it back over time. Usually, this change in direction comes when a band or act wants to create song with some lasting appeal. They may or may not be part of the "hits" but they are likely to go down as those "classics" that hardcore fans know.
So, out of the four albums …and Justice for All—while a good album—isn't really up there with the band's best in my eyes. It was one of the albums that kind of opened the doors to a period in the 90s when thrash metal just wasn't hitting right from the biggest names. At least for the most part.
You could say that part of this was down to experimenting with similar but modern sounds. For some bands that kept it simple and stuck to the formula, you had fans that were moving to emerging genres that came out of thrash such as death metal and black metal as well as those that were inspired by it like nu metal.
Regardless of the part it played in metal's place in mainstream music, it's still an enjoyable album.
Strongest Tracks:
Master of Puppets (1986, Elektra Records)
Master of Puppets was something of the last major push of thrash-era Metallica. It kicks off with a rapid pace with the titular song—while being an introductory song now—really rides. It runs for over eight minutes, but this isn't a slow/mid-tempo soft eight minutes. It's a banger!
While the pace of "Master of Puppets" isn't kept throughout the album, the heaviness is amplified at times but it's constant on this album. The debut was a fast and often relentless blast of thrash fury and the follow up reigned it in a bit while keeping the energy. Master of Puppets is the product of that energy being focused.
Some songs totally rip throughout while others don't necessarily rip but they still rock. MoP is that link between Ride the Lightning and …and Justice for All.
Strongest Tracks: Battery, Master of Puppets**, Welcome Home (Sanitorium), Disposable Heroes**, Orion
Kill 'Em All (1983, Megaforce)
Hands down, Kill 'Em All is my favorite of Metallica's 80s collection and my favorite Metallica album! However, even I know it lacks that dash of experience. Sure, they had a few years of practice and a demo under their belt when dropped Kill 'Em All but it just lacked the seasoning of Ride the Lightning and the direction of Master of Puppets and …and Justice for All.
Then again, that's the role this album serves. It gives Metallica that seasoning before they get into Ride the Lightning. For me, Kill 'Em All rocks because of the speed and intensity. It's like Slayer's Show No Mercy in that it's an opening volley from the band at its most aggressive and energetic.
After this album, the band gradually focused its energy to the point where experimenting with different sounds and frontiers was the next step. Of course, that had mixed results. While a lot of debut thrash albums range between 35 to 40-something minutes, you're getting close to an hour of Metallica here, so you get a good sampling of their early sound and what our next entry used as a foundation.
Strongest Tracks: The Four Horsemen**, Motorbreath**, Phantom Lord, Seek & Destroy*, Metal Militia
Ride the Lightning (1984, Megaforce)
To a degree, Ride the Lightning seems like it could've been Metallica's debut—or at least that it should've been. It kept a lot the pace from Kill 'Em All throughout while also showcasing some tighter playing and songs to really bite down on. Mind you, that doesn't mean these songs pack the same bite as KEA.
The album has its own unique bite. However, KEA's bite came from that rampaging speed and attitude. In a year, the band attempted to find a direction and start heading towards it. That's the main reason it's the best of the decade: it managed to keep the band's roots while also showing polish in this extremely enjoyable almost 50-minute package.
Strongest Tracks: Fight Fire with Fire*, Ride the Lightning**, For Whom the Bell Tolls, Fade to Black, Trapped Under Ice*, Creeping Death*
Staff Writer; M. Swift
This talented writer is also a podcast host, and comic book fan who loves all things old school. One may also find him on Twitter at; metalswift.