(TheBRHM.com) We've touched on the late Thin Lizzy lead singer and bass player Phil Lynott several times. Now, it's time for an ultimate list! Here are five greatest Thin Lizzy songs that cemented Lynott's name in Black rock and heavy metal.
Most of these songs are from the band's hot late-1970s run where Phil Lynott had become seasoned as a front man. The 80s weren't the best time for the band as really drug abuse impacted their recording.
The Boys Are Back in Town (Jailbreak, 1976)
This is a track that everyone raised on radio has heard at least once. It was regularly in local commercials here in the Yellowhammer State along with Elton John's "Saturday Night's Alright" and Lynyrd Skynyrd's "Sweet Home Alabama".
Despite how overplayed the song is, it is the best introduction to the band's music. The opening verse lets you know it's just about bunch of hometown boys who returned to the city:
"Guess who just got back today?
Those wild-eyed boys that had been away
Haven't changed, haven't much to say
But man, I still think those cats are great"
Lynott's vocals here are pretty much his baseline. This was a commercial hit that had a little of the trademark street-dangerous energy of Thin Lizzy but this song isn't our next three tunes.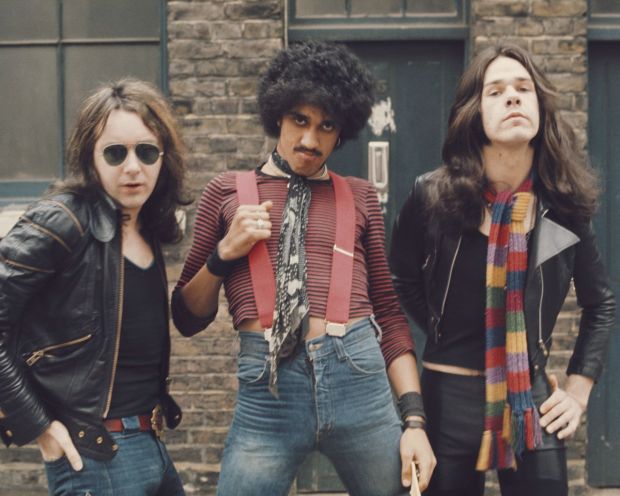 Johnny (Johnny the Fox, 1976)
One of my all-time favorite Thin Lizzy tunes: "Johnny" tells the story of a drug addict driven to the extremes of armed robbery. The titular Johnny finds himself surrounded by police only to meet his death in a dirty alley.
As an aside, I think this Johnny is the same one that was mentioned in "The Boys Are Back in Town" but not the titular Johnny the Fox.
I love storytelling songs and at just shy of four-and-a-half minutes, this is one of the best ones I've heard. Depending on the singer, this could've been just another song but Thin Lizzy's performance made the song.
Hands down, "Johnny" is the best song on the album and one of Thin Lizzy's best.
Opium Trail (Bad Reputation, 1977)
Lynott passed in January 1986 at the age 36 of sepsis. For years he had dealt with drugs and alcohol during a chaotic period for rock and roll. I view "Opium Trail" as something of a part one to our next entry as it's about the highs and lows of drug use. We're not at the end of a story like "Johnny".
The song has a different vibe from a lot of Lizzy songs in that it's funkier—much like the excellent "Waiting for An Alibi". Most of Thin Lizzy's songs are heavily rooted in blues. Actually, it's one of those classic rock bands where you can still hear the blues roots in their music as it developed.
Compared to the rest of the songs on this list, only "Opium Trail" and the last entry give off a different vibe for Thin Lizzy.
Got to Give It Up (Black Rose: A Rock Legend, 1979)
This track our pretty much be in the middle if you were to put "Johnny" and "Opium Trail" in a sequence. "Got to Give It Up" is basically about an addict explaining why they need to quit drugs and telling the listener to tell their parents about how they've failed at trying to get off the stuff.
"Got to Give It Up" was definitely a personal song for Phil Lynott and Thin Lizzy. Again, this was a period where Lynott and other musicians were heavily into drugs and the effects on recording were usually evident.
In Thin Lizzy's case, the issues came through in the recording process even though the band was ridiculously consistent with releasing albums during their run. Lynott's singing here is blues-y as usual but it's the significance of the song that gives it that extra nudge to being an essential track.
Our next track has never been considered an essential track but it's definitely a must hear Thin Lizzy song.
Cold Sweat (Thunder and Lightning, 1983)
As mentioned in other articles, Thunder and Lightning marked a stylistic change for the band. The albums that were released during the late 1970s had a little bit of metal in them. There was definitely an "edge" there that made their hard rock sound a little more aggressive and a little more dangerous than contemporaries like KISS.
To be a little more specific, Thin Lizzy was like an Irish version of Australia's AC/DC but Thunder and Lightning was the band's Painkiller. It's a direction Thin Lizzy should've taken earlier as the band's trademark dueling guitars were a perfect fit.
The awesome thing here is that everything around Lynott changed while he came in with his tried-and-true performance and it worked wonderfully. The guitars had much more bite to them on this album and "Cold Sweat" is the best example of that new direction.
While the album as a whole is both late for the band but just in time for that wave of hard rock and metal, this track would've been at home on an older album like Jailbreak, Black Rose: A Rock Legend, or Renegade.
Staff Writer; M. Swift
This talented writer is also a podcast host, and comic book fan who loves all things old school. One may also find him on Twitter at; metalswift.