(TheBRHM.com) As I've mentioned before over on ThyBlackMan, Judas Priest is my favorite rock or metal band. It was the band that sold me on giving metal another listen. Let's get into the last album of lead singer Rob Halford's first run with the band in 1990's Painkiller.
Judas Priest Faces the 1990s
The importance of Painkiller is linked to where it falls within the band's discography. As mentioned before, this album came following an explosive 80s for Priest and metal as a whole.
During the 1980s, metal saw a boom in popularity worldwide as well as the formation of several genres that would carry metal into 1990s. A successor to speed metal, thrash metal would end the 80s having spawned black metal, death metal, and several others.
Priest had a reputation as one of the faster traditional metal acts but didn't make speed the band's selling point. By the end of the 1980s, it was evident that the band's sound was dated compared to Slayer, Metallica, Megadeth, and the Teutonic Big 4 (Kreator, Destruction, Sodom, and Tankard).
Painkiller was a ridiculously aggressive, over the top version of Judas Priest. The album was late by four or five years but what a studio performance the band delivered!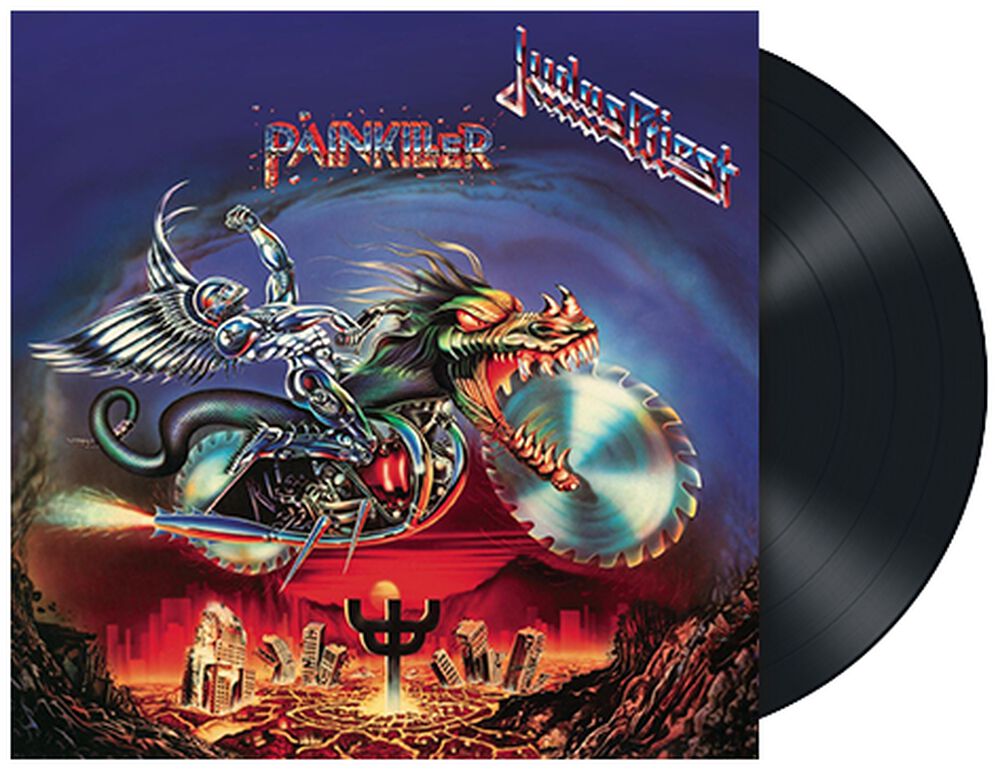 The Importance of Painkiller
This was a beast of an album! For me, it's the most satisfying Priest album from start to finish. It just rips for most of the album but gives the listener some heavy, anthemic tunes. As it happens, this was one of two albums during the 1990s, the other being Jugulator from 1997.
Sometimes, you have albums that are pretty much a continuation of another. Jugulator continued Painkiller as the 1990 release continued Ram It Down. It was Judas Priest at its fastest and most aggressive and really, it's the Judas Priest I wish we'd seen going forward.
From Painkiller alone, there's definitely a "what if" vibe to it once you finish it. "What if Judas Priest just continued in this vein? Why not a Painkiller II?" Besides a few of the 80s releases, there aren't many Priest albums that would warrant a sequel.
The 1990 release is one of them.
Standout Tracks
Usually, I would briefly explain why several albums made a list and give the standout tracks. While Jugulator was enjoyable, the album to listen to of the 90s was Painkiller hands down.
As a result, it's hard to just pick a few standout tracks from this album. All the songs are good-at-the-minimum. Let's look at the hottest three from the album starting with the title track.
Without a doubt, this was the "all killer, no filler" track. "Painkiller" set the pace for every track following it while not being upstaged by any of them, really.
A track that came close was "All Guns Blazing" which really met the pace and ferocity of the opening title track. The only problem is that the song—also very fast, heavy, and aggressive—is that it is only separated from the title track by one song: "Hell Patrol".
So, here we have the first three tracks of the album being loud and kicking copious amounts of ass. I want to leave it at these three but we can't just leave it there. Side A—or the first five songs—is probably one of the strongest A-sides I've heard.
Sometimes, you get a side with a lot of strong songs and one respectably strong song that kind of kills the mood or the momentum set up by the other songs. Trust me, it happens more often than you'd think.
What About the B Side?
On that note, side B—headed up by the single "A Touch of Evil"—is the definition of such a side. Actually, it's what you'd expect a B-side to be: carried by two or three strong songs.
Besides "A Touch of Evil", you have "Night Crawler" and "One Shot at Glory". Honestly, if these songs were sprinkled at different spots on the album, it would probably be the perfect Priest albums.
I mean those three songs could easily break up the headbanging monopoly of the first three songs on the A side and not torpedo the quality of the album at all. Once again, there's the "what if" effect of this album.
The "What If" Effect of Painkiller
What if everything on the album had been rearranged differently? Would this be a different album if some of the tracks were cut? Could Judas Priest deliver a proper sequel thirty-one years later?
To the last question, I'd like to see the attempt but Priest today is very different from Priest '90. Some members have retired or just left the band with some skilled replacements taking up the mantle.
On that note, the addition of Richie Faulkner in time for 2014's Redeemer of Souls and 2018's Firepower, Priest could deliver some Painkiller-grade metal in this decade.
Then again as fans, we should always want artists to grow topic-wise and evolve their sound with the times. That doesn't mean to take an entirely different approach but often times dwelling on the past and trying to capture lightning in a bottle again is detrimental to artists of all mediums.
Still, I would definitely entertain a sequel to this album—Firepower but faster.
Staff Writer; James Swift, Jr.
This talented writer is also a podcast host, and comic book fan who loves all things old school. One may also find him on Twitter at; metalswift.