(TheBRHM.com) Years and years ago when I was looking into different genres of heavy metal, I spent a lot of time checking out one of Scandinavia's black metal—as in "evil and dark" black, not capital "B" black—pioneers: Darkthrone.
The band's nineteenth album, Eternal Hails….., is coming out June 25th. Let's look at who are Darkthrone and some of the albums worth checking out.
Who Are Darkthrone?
Founded in 1986 as Black Death, the band changed its name roughly a year later. At this time, the band played death metal and featured three to four members depending on the recording.
Of the four, three members—Zephyrous, Nocturno Culto, and Fenriz—would remain together when the band crossed over into black metal territory. Darkthrone's inspirations early on were mostly the first wave of black metal.
After the band's first black metal album, 1992's A Blaze in the Northern Sky, the band became a regular duo with Fenriz handling drums but also showcasing dope skills on the guitar, bass, and as a vocalist. Nocturno Culto, known for his gravelly growl vocals primarily handles vocals but is on par to Fenriz on guitars and bass.
As a matter of fact, outside Fenriz on the drums and vocals in their late 2000s stuff and Culto on vocals, I find them indistinguishable. The distinction between the two becomes more evident via the roles they took up once they outgrew black metal.
We're going to take a quick look at the crust punk/speed metal trilogy of albums from Darkthrone. Released between 2007 and 2010, these were the three that really made me a fan of the band.
Let's dive into the first with F.O.A.D from 2007!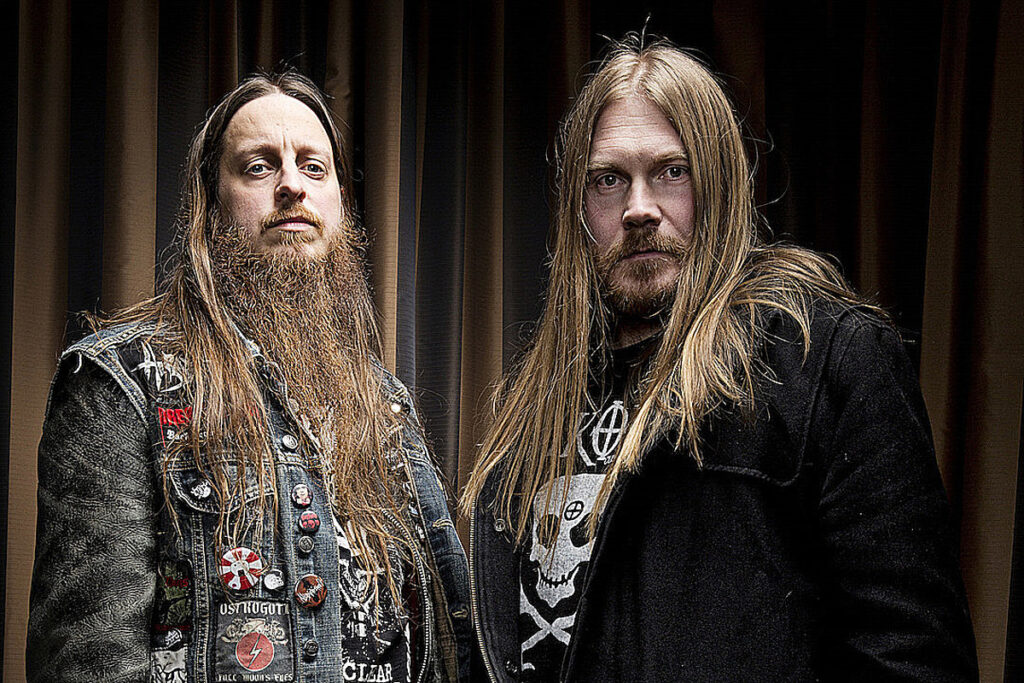 F.O.A.D (2007)
Of the five on this list, this holds first place with the next entry as my favorite album from the duo. F.O.A.D or F**k Off And Die continued Darkthrone's move away from straight up black metal and into crust punk and speed metal territory.
I loved this direction and the band kept on this path for the next two albums—also on the list. Actually, the next two albums are part of this trilogy of albums featuring Dennis Dread's awesome artwork.
Back to the album: F.O.A.D had several standout songs and all of them are simplistic and straight forward. There's no need for think pieces and the like re-evaluating the musical, artistic, and social merit of this album.
Standout Tracks: Canadian Metal**, The Church of Real Metal, Splitkein Fever*, Raised on Rock
Dark Thrones and Black Flags (2008)
Released just a year after F.O.A.D, Dark Thrones and Black Flags leans heavily towards the punkish side of things. It's faster and has more of a direction from start to finish but it doesn't have the same energy as F.O.A.D.
What it does have is a feeling of building to something bigger. The sound here is pretty much Darkthrone nearing the end of their speed metal/heavy metal/punk period.
It's definitely on par with F.O.A.D, but I'd say this one has more bangers from start to finish. I really recommend the tracks "The Winds They Called the Dungeon Shaker" and "Grizzly Trade".
Standout Tracks: The Winds They Called the Dungeon Shaker**, Hiking Metal Punks**, Grizzly Trade**, Witch Ghetto*
Circle the Wagons (2010)
Here we have the third of this trilogy and a style shift into speed metal and old school heavy metal territory. Circle the Wagons simply rocks because it's cleaner than both F.O.A.D and Dark Thrones and Black Flags but still manages to bring a ton of power, speed, and attitude.
It's what I expect from Darkthrone at the start of 2010 but this was more in line with old school metal than punk. This approach kind of sets the stage for 2013's The Underground Resistance.
While the different direction makes for an interesting listen, what also works here is that it doesn't shoot for an epic or larger-than-life atmosphere. Circle the Wagons just teleports you back to mid-80s heavy metal without sounding forced.
Standout Tracks: Those Treasures Will Never Befall You*, I Am the Graves of the 80s**, Circle the Wagons**, I Am the Working Class
Why These Three Albums Rocked
Fenriz and Nocturno Culto are big fans of old school metal with Fenriz doing deejaying, making mixtapes, doing interviews where he's really evident about his love for the old school.
After all, they were teens when a lot of that music was released and these three albums are a like tributes to the sounds that inspired them. They'd made their name in the extreme metal scene, produced several dope albums in that scene, and wanted to do something different.
These three albums pretty much opened the door for the material throughout the rest of the 2010s and now Darkthrone's first album of the 2020s: Eternal Hails…
F.O.A.D, DTaBF, and Circle the Wagons all rock because they marked a major change for a band that had banging out albums at rapid pace in the same two albums for over 20 years. They were due to try new things musically and I feel it turned out extremely well.
I won't say these three albums are essential to enjoy Eternal Hails… but if you've never heard Darkthrone and want to check them out before getting into album, these three are great introductions to the band's current sound.
Staff Writer; James Swift, Jr.
This talented writer is also a podcast host, and comic book fan who loves all things old school. One may also find him on Twitter at; metalswift.