(TheBRHM.com) After going into the new wave of thrash metal briefly, let's look at five landmark albums from the period!  These albums might or might not be the band's best offering but it's definitely in the running for being significant or defining the new wave of thrash metal.
Municipal Waste – Waste 'Em All (2003)
Even shorter than Hell on Earth and It's Time to Face the Doomsday at 17 minutes and 29 seconds, Waste 'Em All takes a crossover thrash approach and delivers some blistering, fast-paced party thrash.
If you were a kid in the 90s, Municipal Waste might come off like the Teenage Mutant Ninja Turtles forming a metal band. No, the band aren't wearing Ninja Turtle costumes but the lyrics here are all about thrash, destruction and partying.
There are a few tracks that lean towards commentary of society but it's the partying and thrashing that we're here for in Waste 'Em All.
Standout Tracks: Knife Fight, Waste 'Em All, Thrash?! Don't Mind If I Do**
Toxic Holocaust – Hell on Earth (2005)
Honestly, Hell on Earth isn't even my favorite TH album but the band's second release was the perfect spot between the blackened thrash direction of Evil Never Dies and the cleaner and meaner An Overdose of Death…
What I loved about this Toxic Holocaust album is that it moves along so quickly that you'll need to give it more listens to really take in the album. Also, the lyrics aren't elaborate or complex and center on Hell, warfare, evil, and nuclear destruction.
Yes, it's very stock thrash content dating back to the first thrash albums but Toxic Holocaust served it up hot and ready on this release.
Standout Tracks: Send Them to Hell, Thrashing Death**, Hell on Earth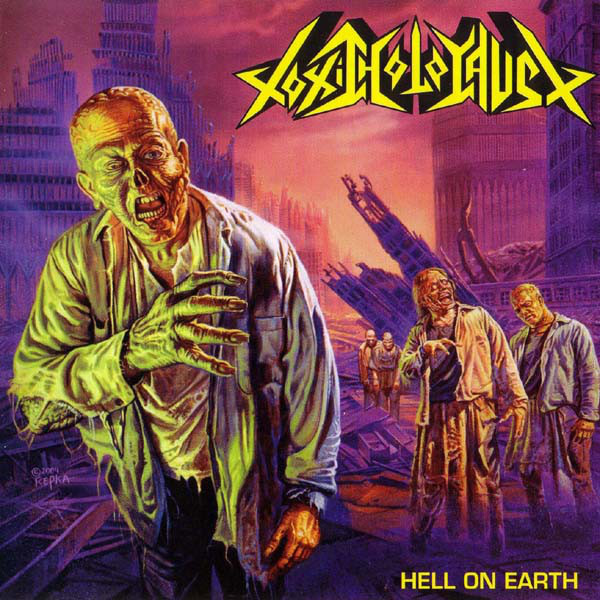 Gama Bomb – Survival of the Fastest (2005)
So, Waste 'Em All is the shortest album on the list, another short one is the 27-minute debut by Gama Bomb. Also, it's another dose of humorous thrash.
Like Municipal Waste, the jokes and references land so no need to sigh. On the menu is…some of everything really. We have songs about thrash and metal, a lot of zombies, anti-racism—it's a wild mix.
This is far from Gama Bomb's best but it's a dope intro to a really good band. If you want to see their roots and how consistent they've remained, start at Survival of the Fastest or even 2008's Citizen Brain.
Standout Tracks: Steel Teeth (The Metal Jaw)**, Bullet Belt**, Hell Trucker**
Mortifier – Underground Noise (2008)
Mortifier is one of those bands that should've released more than the two full lengths. Their brand of thrash wasn't very different from Toxic Holocaust's with songs about war, metal, zombies, and so on.
At least in Underground Noise, these are what's on the menu. I'd best describe the pace and speed of this album as "assault thrash". Similar to Hirax's fast, relentless approach only lengthier.
Anatomies Undone was Mortifier's more polished album but Underground Noise was pure energy and excitement from start to finish.
Standout Tracks: Mountain Killings, Viking Rampage, Wizard Trees**
Children of Technology – It's Time to Face the Doomsday (2011)
While It's Time to Face the Doomsday came along a little later in the new wave's run, it's definitely a landmark of the wave. Even faster and shorter than Toxic Holocaust's Hell on Earth, the direction of the Italian band here is purely on the post-apocalyptic.
A heavy injection of punk and old school speed metal gives Children of Technology's debut album a different vibe from a lot of thrash that came out of the U.S in the year prior even if the lyrical content is very similar.
I say listen to this album if you're playing Fallout games or Mad Max.
Standout Tracks: It's Time to Face the Doomsday**, No Fuel…No Hope!, Escape from the Danger Zone*
Staff Writer; James Swift, Jr.
This talented writer is also a podcast host, and comic book fan who loves all things old school. One may also find him on Twitter at; metalswift.