(TheBRHM.com) When we last dove into Judas Priest, it was to look at the band's 1970s releases. How we look at the extremely hot 1980s. Not only was it a period where Priest put out a number of classic albums but it was a hot period for metal in general.
The Metal Gods had six full-length albums in the 80s and we're saving the best for last. It's time to see what was the Best of the Decade.
Judas Priest – Point of Entry (1981)
After seven albums and eleven years as a band, studio pressure and a desire to grow its legion of metal maniacs crept in. The result was an album that had crispy production and a more commercial sound.
To be honest, I felt it was a decent enough Judas Priest album. It was far from the near endless headbanging and strained karaoke-inducing albums it falls between.
It was a decent metal album and a good hard rock release. Despite the album, Halford brought 100-percent in the studio.
The singles selected for the album pointed to two standouts. "Thunder Road" should've been on the album proper to make it three standouts. Oh, we can't forget about "Solar Angels".
Standout Tracks: Heading Out to the Highway, Desert Plains*, Solar Angels, Thunder Road*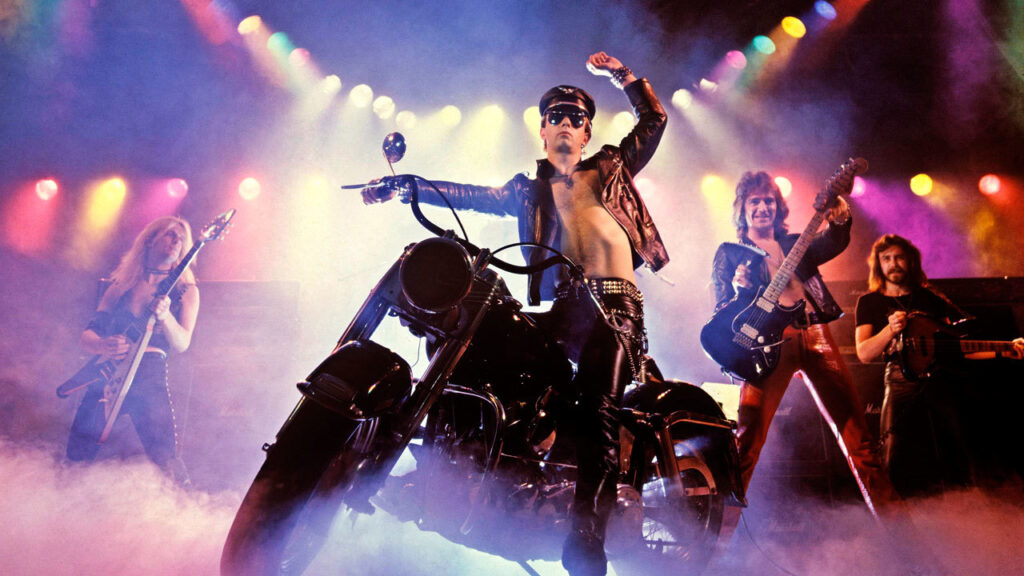 Turbo (1986)
When it comes to the 1980s, the above album and this one gets a lot of flak from Priest fans. For the most part, it's the same reason: a more commercial direction impacts the music overall.
The sound, the lyrical content—a hit was taken but I wouldn't say it was a hit to quality. As an entire album, it's far from awful. If you look at it as a hard rock album made in the 80s, it's just like Point of Entry in being a good release.
However, looking at it as a metal album and points rapidly get deducted. As with even the most maligned Judas Priest albums, there is some good stuff here. It's just a drastically different sound and a familiar approach that didn't go over well with hardcore fans the first time.
Standout Tracks: Turbo Lover*, Locked In, Out in the Cold, Wild Nights (Hot & Crazy Days), Reckless*
Ram It Down (1988)
Fourth and third place honors were difficult but not as difficult as the next two. Ram It Down came after Judas Priest's second attempt at a commercial album with Turbo.
It's weird because British Steel really opened things up for them and it was still very rooted in heavy metal and speed metal. They didn't necessarily need to add more catchy hard rock but they did.
Even your all-time favorite acts stumble sometimes. Ram It Down got things back on track and would be the book end on an eventful, strong decade for the band. It also comes before my favorite Judas Priest album of all time.
As for the album's sound, I'd throw it back to a heavier British Steel, far lighter than Screaming for Vengeance, and lighter than Defenders of the Faith. That's foreshadowing for our top two entries.
I'd put Ram It Down as a solid introduction to the Judas Priest in the 1980s before ramping it up. However, British Steel is the better introductory album.
Standout Tracks: Ram It Down*, Come and Get It, Hard as Iron*, Blood Red Skies*,
British Steel (1980)
This was a smash hit for the band internationally. While a large amount of hit songs and catchy tunes doesn't equal a classic, it does up the chance of a smash hit dramatically. Also, this was a lot of the world's introduction to the band.
While Point of Entry and Turbo took a "metal for the masses" approach, British Steel was very much "metal for metalheads". However, it still had some catchy tunes such as the band's most known song "Breaking the Law".  "Living After Midnight" is another hit in attendance.
Is British Steel overly introductory? Yes, but this was one hell of an introduction.
Standout Tracks: Rapid Fire*, Metal Gods, Breaking the Law*, Grinder, Living After Midnight, The Rage*
Defenders of the Faith (1984)
If one song off of this album was a silver bullet to the number one placeholder, it would be "The Sentinel". It's the most Judas Priest song and another in the "Metal Gods Mythology".
However, our first entry—Screaming for Vengeance—is an entirely different beast of a metal album. It holds a first-time distinction that might not be matched for a while, folks.
Defenders of the Faith is no slouch. It features several of my favorite Judas Priest tunes and is a beast of an album in its own right. The thing here is that Defenders of the Faith has songs that really hit in that moment and there are many headbanging tracks here.
Then you have Screaming for Vengeance which sticks the landing where Defenders missed it: the ending. SFV slaps from start to finish and never lets you forget that it utterly slaps.
Meanwhile, once you get "Some Heads Are Gonna Roll", Defenders calls it a day and clocks out. It just lacked that staying power to finish strong and that could've been solved by using "Night Comes Down" and "Heavy Duty" to cool the listener down between the first seven hot and heavy tunes.
Standout Tracks: Freewheel Burning**, Jawbreaker**, Rock Hard Ride Free, The Sentinel**, Love Bites*, Some Heads Are Gonna Roll
Screaming for Vengeance (1982)
The band's ninth album and part of a strong 80s trifecta with 1981's Point of Entry stopping a three-peat. Screaming for Vengeance has a scary number of great songs.
The majority are unstoppable headbangers and the rest are still strong tunes. It's simply a beastly album with some of lead singer Rob Halford's best vocal performances.
We've got speed metal, heavy metal, and a little hard rock all in one place and none of it drags the album down. Even the mid-tempo tracks are either heavy or they just rock.
What really sells this album is the speed metal that just rides. "Electric Eye" with the "Hellion" as an intro is the best example of this but "Riding on the Wind" rips as well.
Then you have stuff with a mid-tempo but with a weight to them such as "Bloodstone" and "(Take These) Chains".  Priest put on a first-place trophy performance with this album.
This was just an enjoyable album from start to finish and one of the band's classics and probably the best Judas Priest album—depending on what you love from the band.
Standout Tracks: Flawless Album
Staff Writer; James Swift, Jr.
This talented writer is also a podcast host, and comic book fan who loves all things old school. One may also find him on Twitter at; metalswift.