(TheBRHM.com) I've mentioned in previous articles on ThyBlackMan that Judas Priest is one of my favorite bands of all time. In a career that just crossed the 50-year mark Priest has dropped nineteen albums.
Judas Priest: 19 Albums and Counting
Of those nineteen, seventeen we're headed up by my favorite all-time vocalist, Rob Halford. I figured we'll do a trek through Judas Priest's discography with a "Best of" by decade.
We'll look at their discography in a particular decade and rank them—from weakest to strongest. It sounds simple but giving some albums another listen can disrupt a list.
Let's dive into Judas Priest's 1970s release and see what I felt was their strongest of the decade. It's six albums but we'll see if it'll be light work. Songs with an asterisk are highly recommended.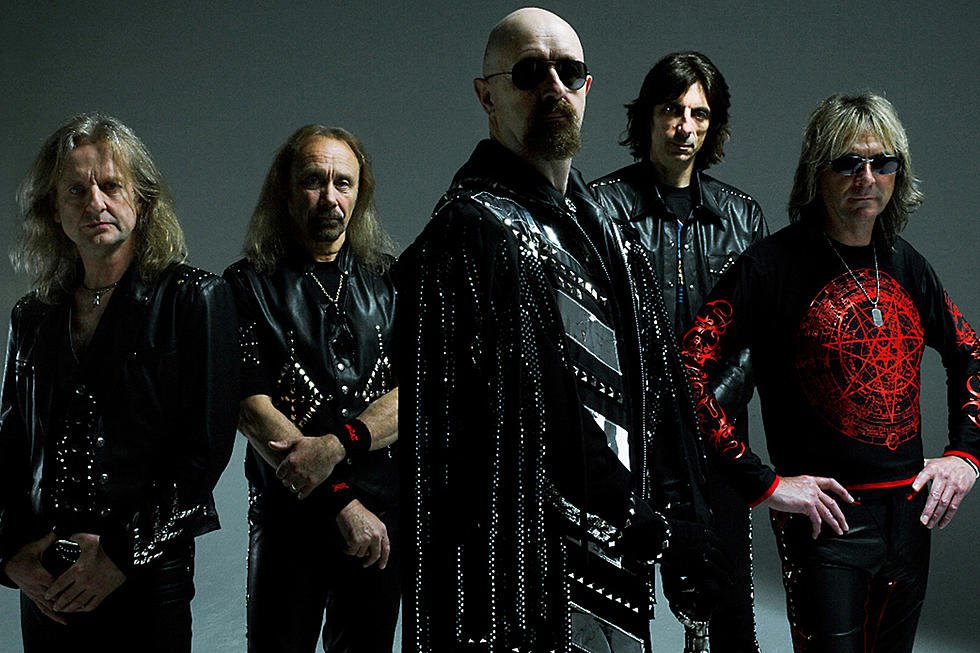 5. Rocka Rolla (1974)
Clocking in at just under 39 minutes, Priest's debut album was the full dive into heavy metal as heard in their sophomore release. This was a pretty mid-tier hard rock album. It wasn't bad not was it good is the best way to describe it.
Rocka Rolla had a few good songs that could've been redone and put on later albums. This was the case with a few songs written for the debut which ended up on Sad Wings of Destiny.
Apparently, the producer felt that the songs weren't radio-friendly. Those songs would end up becoming staples of the band's 70s performances. Oh, hindsight.
Standout Tracks: "Rocka Rolla", "Never Satisfied", and "Cheater"*
4. Killing Machine (1978) and Hell Bent for Leather (1979)
This was a difficult entry as both are the basically the same album with Hell Bent for Leather being dropped for the U.S market featuring the cover of Fleetwood Mac's "The Green Manalishi (With the Two-Pronged Spear)".
Both are strong metal albums separate from the rest of Judas Priest's catalog but are at the bottom of the 70s releases. These two rock and have a heaviness to them but there are heavier albums from the band in this decade.
Ranking one over the other wouldn't make much sense but they're definitely stronger than Rocka Rolla.
Standout Tracks: "Rock Forever", "Hell Bent for Leather"*, "Take On the World", "Burnin' Up"*, "The Green Manalishi (With the Two-Pronged Spear) (Fleetwood Mac cover)"*, "Running Wild", "Before the Dawn"
3. Sin After Sin (1977)
Judas Priest's third album saw the band keep the ship on course but didn't have the same umph as Sad Wings of Destiny and Stained Class. Despite that, its spot at number three isn't anything to sneeze at.
Sin After Sin is a ridiculously strong album with some great songs on both sides—especially theb cover of "Diamonds and Rust". Also, we have a "Metal Gods" song in "Starbreaker."
The "Metal Gods" songs are basically those Judas Priest sci-fi tunes about these characters with incredibly destructive songs. On most albums you can find at least one.
All of that aside, even the number four slot wasn't shared, this would be the rock solid number three.
Standout Tracks: "Sinner", "Diamonds and Rust (Joan Baez cover)"**, "Starbreaker", "Let Us Prey/Call for the Priest"*, "Here Comes the Tears"*, "Dissident Aggressor"
2. Sad Wings of Destiny (1976)
This album is just about as flawless a 70s metal album as you can get it. The studio performance, exciting songs, and the number of strong songs all make this an album worth listening to from this period.
Released following Rocka Rolla, it saw Priest take to the heavy metal style presented by Black Sabbath early into the band's career. Not only that, we got a different strand of heavy metal here.
See, when Black Sabbath dropped their self-titled debut in 1970, it was mainly a doom metal album but the metal genre had been birthed…or properly birthed. They dropped the first metal album is what I'm getting at.
Outside of a few songs, it wasn't exactly metal as you'd picture it. Sad Wings of Destiny gave us the sound and imagery of what heavy metal would like to the masses.
On top of that, it established the path the band would take going forward. If I had to describe it, it's as if Black Sabbath's Master of Reality and Queen's Sheer Heart Attack were mixed together and made faster and punchier throughout.
It's an extreme consistent album and features the band's first speed metal songs in "Deceiver" and "Tyrant".
Standout Tracks: "Victim of Changes"*, "The Ripper"*, "Dreamer Deceiver", "Deceiver'*, "Tyrant"**, "Genocide"
1. Stained Class (1978)
At the top of the 70s pile is Stained Class, the band's fourth album. Comparing this album and Sad Wings of Destiny was incredibly difficult because they're so neck-and-neck quality-wise.
Whereas Sad Wings was heavy and somewhat gloomy throughout, Stained Class was heavy, somewhat aggressive, and better paced from start to finish. Lyrically, it's standard Judas Priest fare but the studio game of the band and the production hit things clean out of the park.
I'm a big fan of speed metal and this one had some stank on it. By 1970s standards, this album rips. Of I hand to pick a Priest album that contributed to the birth of power metal, this album would be one of them hands down.
Standout Tracks:  "Exciter"**, "White Hot, Red Heat", "Better by You, Better than Me (Spooky Tooth cover)"*, "Stained Class"*, "Saints in Hell", "Savage", "Beyond the Realms of Death"**
Drop your rank list for Judas Priest's 1970 below!
Staff Writer; James Swift, Jr.
This talented writer is also a podcast host, and comic book fan who loves all things old school. One may also find him on Twitter at; metalswift.