(TheBRHM.com) This might be softballing to start but we're continuing Women Rock Month with another all-woman pioneer in rock The Runaways.
The Classic Lineup
Every band has a classic lineup. That's the best collection of members that the band is known for and often occurs at the peak of a band's popularity.
In the case of The Runaways it was Joan Jett (rhythm guitar/vocals), Cherie Currie (lead vocals), Lita Ford (lead guitar/vocals), Jackie Fox (bass/backing vocals), and Sandy West (drums/vocals).
Most members did backing vocals with Jett, Ford, and West doing lead vocals as well and Currie being the main vocal. This lineup was pretty much in place by 1975, an important and formative years for a number of hard rock bands.
Usually, I don't list each member of a band. I'll note the singer or a really dope guitarist but this is a different case for two reasons. The first is the importance of the band's debut album.
Our second reason is because of two big musicians that came out this band. It's also important to note that The Runaways were such a success out of the gate and was only around for roughly four years.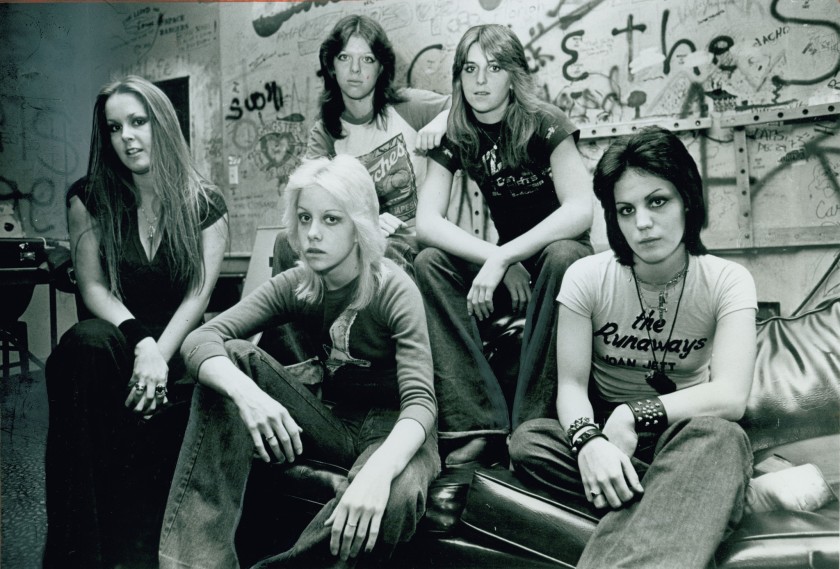 1975 and The Runaways
The band's first two members were Joan Jett and Sandy West who met by chance when going to record producer Kim Fowley's house. They kicked it off and there was a building period where combinations of members were tried out.
Everything about The Runaways was just…fast. They started as a trio and auditions were held to round out the band. Fowley took to putting The Runaways together as if it was a pop group.
In some ways, this was part of the band's demise. Rock bands don't always just come together and aren't always former by family and friends but those bands tend to stick around longer because they come together with a focus in mind that involves the band as a whole.
With The Runaways, it was like putting a pop group together to either support one star or groom a future star or two for a solo run. Now, I'm not saying that was Fowley's end goal but Lita Ford and Joan Jett did go on to have lengthy, great careers in music afterwards.
The band played punkish hard rock. Their sound had the energy and stage appeal of punk but all five members of the classic lineup had performance chops and we're still in their teens.
The End of The Runaways
In 1976, the band released The Runaways and took to the circuit playing shows and supporting larger bands. Fame came quickly and in very short order they were the star attraction.
That momentum continued in part due to the single "Cherry Bomb" which was a big hit. Actually, it was so big that they did a tour of Japan in the summer of 1977, had a TV special which featured one of their best live performances, and dropped Live in Japan.
It was also in 1977 that the band began to unravel rapidly. Bass player Jackie Fox left during the tour stating that their manager Kim Fowley raped her. She was replaced by Vicki Blue once the band returned to the U.S.
That fall, there was an argument between Ford and Currie which resulted in Currie going solo under Fowley's management. This put lead vocals duties squarely on Joan Jett was shared the duties with Currie.
Before 1977 was over, The Runaways released their fourth album Waitin' for the Night and enlisted a new manager. Vickie Blue would leave the band in late 1978 and was replaced as well.
Interesting to note: Blue became a filmmaker and released Edgeplay: A Film About the Runaways in 2004. In it, it was revealed that the parents of some band members were vocal about Fowley's handling of the band.
When the band was formed, all members were still teenagers and according to the documentary, as a the manager of an underage touring group, he was responsible for their education and care while on the road.
Instead, they were mainly left to their own devices and that 70s and 80s party scene in entertainment that has been detailed in VH1 Behind the Music, Unsung, and The Decline of Western Civilization II: The Metal Years.
What Finished The Runaways
Hell, what didn't finish them? The lack of a manager with the band's best interests in mind is a big factor. Some young artists can handle the stress of meteoric success because they have a team that doesn't just care about them as a performer but as people.
Those who crack and do the wildest, nonsensical things in their youth often don't have those people around them. Instead there are people who just "let them be great".
Another important factor is that the band stopped doing shows in December 1978 and called it a wrap the following April. Part of this is due to a creative conflict that pitted Lita Ford and Sandy West against Joan Jett.
Ford and West wanted the band to stick with heavy rock territory while Jett wanted to steer the band towards punk and glam rock. As a listener to their music, both directions are intriguing.
The heavy rock direction would've kept them relevant longer since hard rock was still consistent and heavy metal was on the rise.
Also on the rise was punk but there that whole commercial appeal thing and punk was going to morph and split into multiple directions in the new decade.
Instead, the band split up with Currie, Ford, and Jett coming out as the superstars.
Three Stars
Cherie Currie—who had already left the band—would have a solo career as well as perform with her twin sister, Marie. While music isn't her focus these days, she still performs.
Lita Ford became a guitar god in metal and hard rock during the 80s. While her solo career started out firmly in hard rock territory, she adopted the rising metal sound into her music.
By the mid-1980s, Ford was playing glam metal and went platinum from her 1988 release Lita.
Joan Jett had a particularly bright star during that decade. After failure in promoting herself to record labels as a solo artist, she established Blackheart Records to manage her career and her works.
She would also form Joan Jett & the Blackhearts. Racking up gold and platinum plaques, her biggest hits of the decade were "Bad Reputation" and "I Love Rock & Roll".
Staff Writer; James Swift, Jr.
This talented writer is also a podcast host, and comic book fan who loves all things old school. One may also find him on Twitter at; metalswift.