(TheBRHM.com) The Memphis music scene is one that I always appreciated for its hip-hop side. On the rock side of things, I haven't heard much from the scene besides Saliva and classic metal act Medieval Steel. You can now add all-Black hardcore punk band Negro Terror to that list.
Rest in Power Omar Higgins
Before I get into Negro Terror, it's important to mention that in late 2019, lead singer and bassist Omar Higgins passed away at 37. The singer was known for his energy and the power he put behind the band's rapid, aggressive approach.
In addition to hardcore punk, he also performed reggae with Chinese Connection Dub Embassy. The band features his brothers Joseph and David. Trust me, it was a difference experience after seeing Omar in a hardcore punk band first.
That said, they make dope music and are pretty much the reggae act in Memphis-10. Plus, if you've listened to Bad Brains' catalogue, it's not that strange to see a musician do two different styles such as rock and reggae.
If anything that makes them a truly diverse artist. That said, rest in power to Omar Higgins. There was a lot more to do with Negro Terror with you heading up the vocals.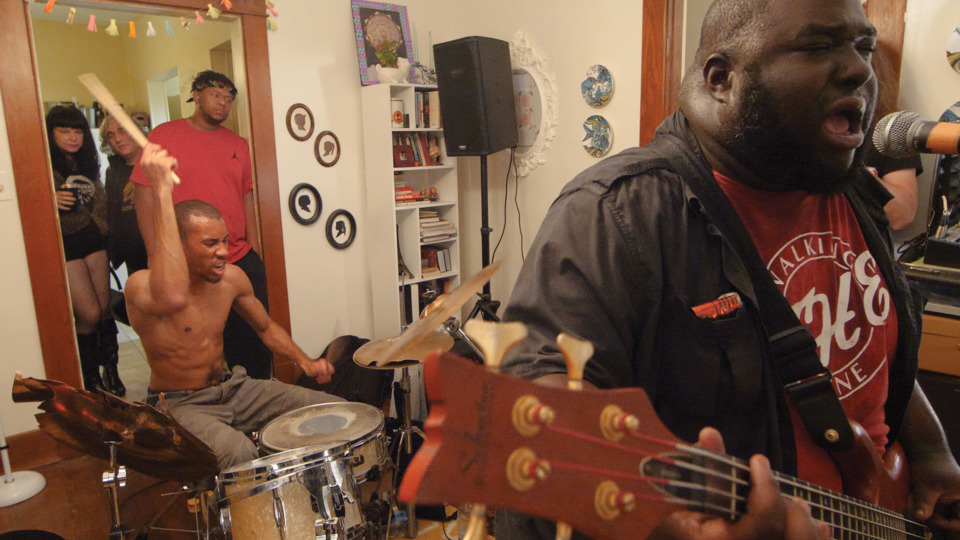 Negro Terror: More Than Newcomers to Black Rock
There are no shortage of rock and metal bands from Memphis and almost every major city has a punk scene of some sort. Negro Terror is a band I discovered early in 2020 after finding their The Bootlegg EP, released in 2017.
From there I checked out the Negro Terror Documentary Film from 2019. I really wish there were more Black Rock documentaries, these bands have been around for years and you don't really hear about them unless they start to make waves beyond their region.
It's a hard feat when a lot of newer Black bands are viewed as novelties despite having respect and support in their regional scenes. Back to Negro Terror, the band gained national attention after doing covers of defunct white power rock band Skrewdriver.
While this probably raised a few—a couple—of eyebrows, Negro Terror made those songs distinguishable from the original band's versions. As a matter of fact, hearing "Invasion" I thought "This sounds familiar."
Negro Terror's spin on the song and spinning "Voice of Britain" into "Voice of Memphis" made for interesting choices and their performance pretty made them their songs. Just like Whitney Houston making Dolly Parton's "I Will Always Love You" her song.
The band's approach is similar all-Black band and DC hardcore punk pioneers Bad Brains' early work. It's fast, aggressive, and energetic. The contrast comes in the vocals.
While Bad Brains lead singer H.R could do some of everything vocally, Omar Higgins—who could also change up his singing—really delivered with the harsher, growls. Really makes me wonder how he would've done in metal.
Recommended Material
As it happens, there isn't a ton from the band on Apple Music and Spotify. There you can find "Voice of Memphis" and "We Need Support". Those two can also be found on YouTube.
If you want more Negro Terror, hit up their Bandcamp and check out The Bootlegg EP. Also support the band, their EP is $2. This EP features another cover called "Rapist" from British band Combat 84.
The band ended up being lumped in with the white power music scene based on controversial statements in the aftermath of the Southall riot in 1981.
As with other covers by the Terror, songs by racist or perceived racist bands aren't spared. Here's hoping that the band continues and doesn't end as a "what could've been".
Staff Writer; James Swift, Jr.
This talented writer is also a podcast host, and comic book fan who loves all things old school. One may also find him on Twitter at; metalswift.