(TheBRHM.com) Continuing with Women Rock Month, we head far south of the border to Chile with the band Demona. Formed by lead singer and guitarist Tanza Speed.
Tanza Speed and Demona
A second-generation metal musician, Tanza Speed formed Demona in 2007 at just 17-years old. She loves old school speed metal and made that the focus of her band.
Actually, speed metal has been the name of her game with any band she's started and I'm here for it. She also backs up her love of the genre with tight, speedy guitar playing.
Vocally, she might not be for everyone. I dig it because her albums tend to be organized, rapid chaos and the singing goes right along with the sound.
It wouldn't be until a year later when she dropped Promo 2008. There a series of EPs, demos, and split albums until 2012 when her band released Metal Through the Time.
Now, during its first 2007 to 2017 run, Demona released only two albums. Of the two, I'd say Metal Through the Time is the better of two because it has one incredible secret weapon.
While one album might be better than another in a catalog, is it a good metal or hard rock album overall? Let's test the debut's steel.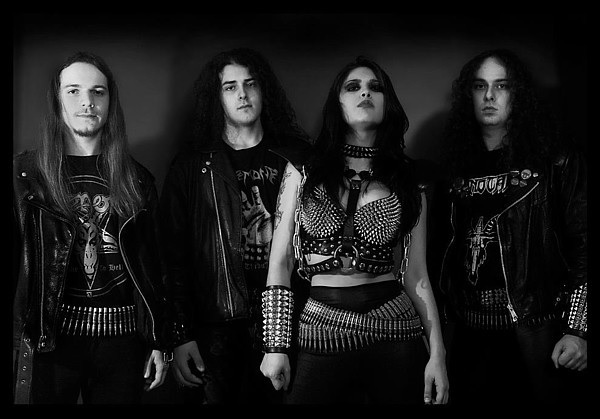 Metal Through the Time (2012)
We've got twelve albums ranging between 2-minutes and change for some tracks and a little over six minutes for the longest song. Most of these tracks are a little over 3-minutes with the album clocking in at 45-minutes.
Again, speed is the name of the game here and things are louder than hell on this debut! Going back to Tanza Speed's singing, there's a thick accent here and her voice comes off as somewhat high naturally but it works with these songs.
Most of the album is in English but there are a few songs in Spanish that rock. "Ataque de locura homicida" and "Tormenta" come to mind instantly.
However, those aren't even the strongest songs on the album. Those honors go to "Nightmare", "Metal Through the Time", and the cover of Wardance track "Don't Play with Fire".
This is an album full of awesome, thrashing songs but as you know, I tend to only go with three or four standout tracks to keep from burning our readers out on a lot of metal.
Standout Tracks: Nightmare, Metal Through the Time**, Tormenta, Don't Play with Fire (Wardance cover)*
Star Track: Metal Through the Time
This was the star song on this album. I always felt that the titular track on an album should be at least top three. This song is number one by a country mile.
What makes the track so special is that while it sounds a lot like any fast-as-hell song on this album is that it has features. As you may know, features are more prominent in pop and hip-hop.
Rock music tends not to have a ton of features. Duets? Definitely and that is a feature but even then, that's not a regular occurrence. It has to be a duo of two extremely popular artists for this to go down.
Tanza Speed managed to pull in several cult legends of speed metal for this over 6-minute track. Her father, Maurico "Jackie" Godoy of Distortion, Thomas Heyer of Wardance, V.O Pulver of Poltergeist and Gurd, and Ralf Schmeckel of Medusa all handled lead guitar duties on this track.
Oh, but the dopeness doesn't end there! On guest lead vocals there was Pulver, Gezol of Metalucifer and Sabbat, Sandra Schumacher of Wardance, Jorg Juraschek of Warrant, and Dave Just of Destruction.
It might seem like that would be a train wreck of a song based just on how many musicians were involved but the song rocked. Again, this album was blistering organized chaos and "Metal Through the Time" was the best example of that on this release.
Verdict
From start to finish Metal Through the Time was a great wedge of modern speed metal. The genre was largely done by the late 1980s as thrash, power metal, and death metal picked up the speed crown.
However, speed metal has made a steady comeback in Europe, South America, North America, and Japan. Demona's debut album was one of many speed metal revival albums released in the 2010s but it still managed to be something special.
Of course, that is in part due to that star track. I'm surprised this hasn't been done more in metal—besides Colombian speed metal band Revenge.
Usually, you get ensemble bands, super groups, and so on when really all you need is one or two other lead singers to get on a track. Demona managed to get eight others and a few hadn't made an album since the late 80s or 90s.
Tanza should've done the same for the follow-up Speaking with the Devil. However, featuring it here and not repeating it kind of makes it a surprise.
We might or might not get something that awesome on another Demona album but at least fans don't end up conditioned to expect a surprise.
Overall, I'll say that Metal Through the Time is a very strong album. What a debut! We'll get into Speaking with the Devil later this month but this album showed that Tanza Speed, Gabrihell, and Jean-Francois "Jeff" Tremblay had a lot of potential.
Looking at this album from a 2012 viewpoint, you could say this a band that could've been big later in the 2010s and into this decade.
Grade: Strong Album
Staff Writer; James Swift, Jr.
This talented writer is also a podcast host, and comic book fan who loves all things old school. One may also find him on Twitter at; metalswift.